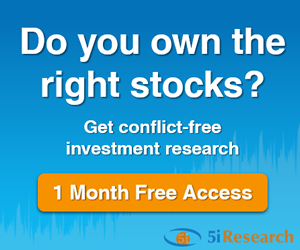 5i Recent Questions
Q: According to Portfolio analytics, I own about 7% of my portfolio in 3 Canadian banks and another 7% in 3 US banks. I also own another 25% of my portfolio in BAM, Visa, SLF, BRK.B and GSY which are in the "Financial" sector but are very different from each other as well as different from banks. How concerned should I be with this aspect of my portfolio. I don't need the money for 25 years.
Read Answer
Asked by Wes on April 12, 2019
Q: May I please have your comments on how Apple's decision to enter the credit card business impact on Visa's operations.
Cheers,
Read Answer
Asked by Harry on March 27, 2019
Q: Hi,
I already own some MA but I want to add more exposure to this sector. Which of these companies would you suggest for a long term hold with minimal volatility? (I'm not sure why why my TD webroker trading platform lumps CRM into the same category as the others but it does?)
Is there a credit card ETF you like?
Also, are there any equivalent Canadian stocks?

Read Answer
Asked by Graeme on March 18, 2019