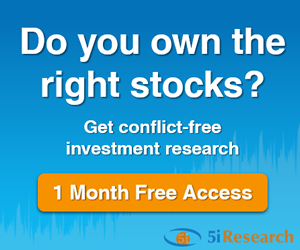 5i Report
JUN 27, 2019 - In our view, Canada's best growth story. This e-commerce company has grown more than 900% since we added it our Model Growth Portfolio back in 2016. There is a lot to like about the business but a recent run in the share price has elevated risks. However, we still think the company has a strong runway for growth. Initiating coverage at an 'A-' rating.
Download Report

5i Recent Questions
Q: Hi there,

Between these 2 names, which do you prefer overall?

Thanks!
Read Answer
Asked by Michael on October 11, 2019
Q: Would you really buy shop now at this price. Some indicators have it going down to dollars.
Read Answer
Asked by Sharon on October 11, 2019
Q: I owned Paladin and was very happy with the sale to ENDP, but I, regrettably, held my shares of ENDO until I lost most if not all of my Paladin windfall. You endorsed ENDO and saw future growth there. Now that TSGI has been sold, I am wondering what to do. I realize there is some deal risk and regulatory risk, and I am not fond of the inconvenience of the London Exchange. I am thinking I might sell my TSGI shares and put the proceeds split into LSPD and/or SHOP. I know you see growth in all three, but you have perhaps been endorsing LSPD and SHOP for longer, now. And you took TSGI out of the portfolio (before the sale, I realize). To focus my question, let me ask: How do the two Canadian stocks compare to TSGI in terms of risks/rewards going forward. The 2 for 1 would at least add a bit of diversification.
Read Answer
Asked by Gordon on October 08, 2019