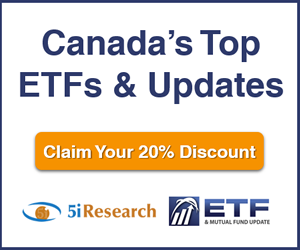 5i Recent Questions
Q: Hi, I currently have $11,500 to add to my TFSA with a long term horizon. I currently hold CNR (2.53%), NTR (2.88%), PLC (5.04%) PPL (2.98%), TD (4.21%), V (4.71), WCN (6.15%), XLV (3.31%) MAW 104 (25.11%). I am wondering if I should add to the current companies or might you have any other suggestions?
Read Answer
Asked by Penny on July 11, 2019
Q: HI,

I have about a 15% position of TRP in
my RRSP and was thinking of selling and replacing with a non-energy related equivalent dividend stock. I also have large positions of GSY, TD, SHOP, ENB, BNS, AAPL, GOOGL, SPY, V, JPM so would not add to these.

What would you recommend? Thank you.
Read Answer
Asked by Mary on July 08, 2019
Q: I have had a held Bank of Nova Scotia for several years. Also held Toronto Dominion for shorter time. , Small holdings in each stock, about 1% in each. Should I sell BNS and replace with TD., or sell BNS and add to TD. Looks like 5 year return on BNS is -1.14%. Looking forward to your comments, thanks
Read Answer
Asked by David on July 02, 2019