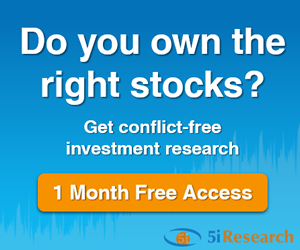 5i Report
NOV 15, 2017 - Enterprise software solution provider that continues to show an ability to grow through acquisitions. While the premium valuation necessitates higher growth, all companies should take a look at how CSU has managed its operating history. Rating maintained at 'A'.
Download Report

5i Recent Questions
Q: Your Analytics program has provided a convenient tool to see the weightings in my overall portfolio. From this I have learned that while there are some with larger percentages I have many positions between 1 - 2% weighting. Sometimes this resulted from my having initiated small purchases and sometimes from falling share values. In any event, I wonder if I am spread too thin? I guess one part of this is that the small positions will not move the dial. On the other hand, quite often your members ask what you might recommend when looking at choosing between 2 stocks and the answer suggests having both, for better diversification.
1. So my first question is whether positions of 1 - 2 % are too small or is this good diversification?
2. In this context, my next questions are about positions of 1.57% and 1.42% in Enghouse and Kinaxis; are these positions too small and if so, which would you sell and which to keep / add to? And similarly, positions of 1.39% and 1.18% in Parex and Suncor. If these positions are too small, which to sell and which to keep / add to?
3. In a similar vein, I have one or two positions that have suffered from considerable declines in share value and there is .36 and .56 of a position. What should I do if I do not want to sell, either because I still believe in the prospects or because it is too painful to sell just now. I often see your answers suggesting you do not believe in averaging down but holding such a small position seems not effective.
4. My last question is about Constellation Software. It is of course one of the better performers and partly as a result presently I have a weight of just under 3.5%. Given its success, would you recommend adding to have a larger position, and if so, how much?

Thanks for your excellent service.
Read Answer
Asked by Leonard M. on July 18, 2019
Q: Hi Have my TFSA in these tickers. Doing very well (THANK YOU), I'm thinking I would like to park it, small growth, dividends, capital preservation comes to mind.
Would you please make some suggestions (stock, etf, etc) to help me accomplish this.
Thank you 5i!

Read Answer
Asked by Fernando on July 12, 2019
Q: I currently am a holder of the following three companies. I consider CSU as an A+ quality, legacy wide-moat company and an A+ capital allocater. Conversely I consider Brookfield of similar nature in reinvestment skills, but as more of a B+ ranking. I consider Broadridge as a legacy wide-moat company, but once again I would rank it as a B+ here.

My question is if you know of any other companies that have these wide legacy moats and strong reinvestment skill similar to that of CSU. Especially down in the U.S. Perhaps you could list out 4-5 possibilities?

Thanks,

Liam
Read Answer
Asked by Liam on July 09, 2019