Dividend Updates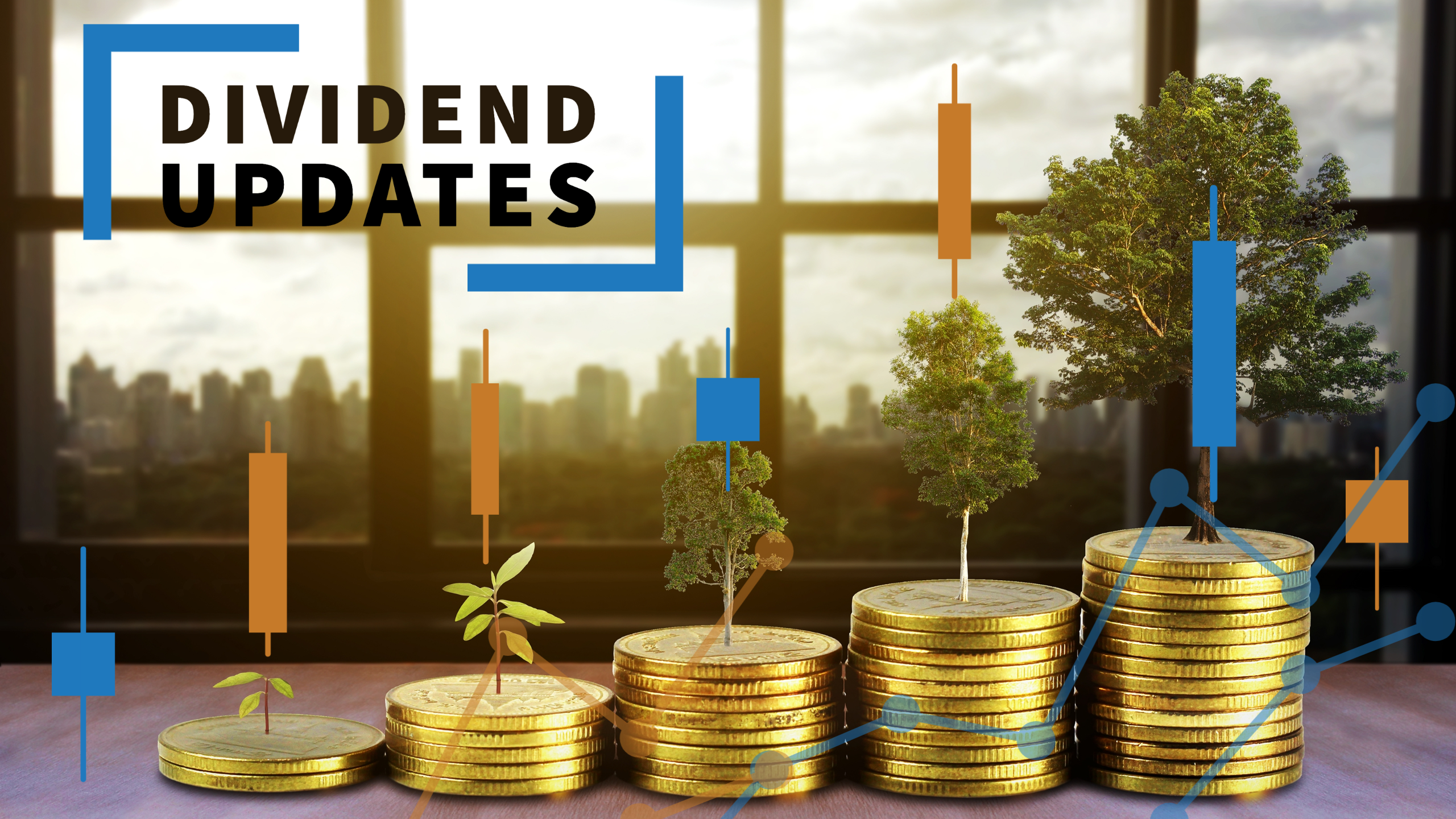 A key ingredient in making informed decisions is timely information. Something that the 5i Research team works tirelessly to bring to you promptly. With the influx of information directed at us on a daily basis, you may have missed these recent announcements regarding dividends. Well, you are at the right place. You will find below the latest dividend information conveniently group per their publication dates.

May 27th, 2020 - Computer Modelling Group CMG reduces dividend by 50%‬
May 19th, 2020 - Chesswood Group CHW suspends dividend
May 15th, 2020 - H&R REIT HR.UN cuts distribution by 50%
May 14th, 2020 - BTB.UN BTB REIT cuts the annual distribution from $0.42 to $0.30
May 14th, 2020 - Birchcliff Energy BIR reduces dividend by 80%
May 11th, 2020 - Pinnacle Renewable PL cuts dividend by 75%
May 11th, 2020 - Western Forest WEF suspended its dividend last week.
May 8th, 2020 - Domtar Corp. UFS suspends dividend
May 7th, 2020 - RECP suspended its dividend
May 7th, 2020 - ‪Enerflex EFX reduces dividend by 83%‬
May 7th, 2020 - Algonquin Power AQN raises dividend by 10%
May 6th, 2020 - Franco Nevada FNV raises dividend by 4%‬
May 6th, 2020 - B2Gold Corp BTG raises dividend by 100%
May 6th, 2020 - Crescent Point Energy CPG cuts dividend by 75%
May 6th, 2020 - Norbord OSB cuts dividend by 75%
May 6th, 2020 - Suncor Energy SU cuts dividend by 55%
May 5th, 2020 - ‪Alaris Royalty AD reduces dividend by 30%‬
May 5th, 2020 - Crown Capital Partners CRWN suspends dividend‬
May 5th, 2020 - ‪Sleep Country Canada ZZZ suspends dividends‬
May 1st, 2020 - Pason Systems PSI to reduce dividend by 74% next quarter

April 30th, 2020 - STLC eliminating dividend
April 30th, 2020 - GMP Capital GMP suspended dividend
April 30th, 2020 - Gildan Activewear GIL suspends dividend
April 30th, 2020 - Yamana Gold YRI boosts annual dividend by 25%
April 30th, 2020 - Methanex MX cuts dividend by 90%
April 29th, 2020 - Sylogist SYZ raises dividend by 10%
April 29th, 2020 - Husky Energy HSE cuts dividend by 90%
April 29th, 2020 - Rocky Mountain Dealerships RME cuts dividend by 51%
April 23rd, 2020 - Canfor CFX suspends dividend
April 21st, 2020 - Chesswood Group CHW cuts dividend by 50%
April 21st, 2020 - AutoCanada ACQ suspending dividends
April 20th, 2020 - Uni-Select UNS suspends dividend
April 16th, 2020 - Peyto Exploration & Development Corp PEY cuts dividend by 83%
April 16th, 2020 - Pizza Pizza Royalty Corp PZA cuts dividend by 30%
April 15th, 2020 - Freehold Royalties FRU cuts dividend by 71%
April 15th, 2020 - Vermilion Energy VET suspends dividend
April 13th, 2020 - Keg Royalties KEG.UN cuts distribution by 63%
April 6th, 2020 - Chorus Aviation CHR suspends dividend
April 6th, 2020 - CAE Inc. CAE suspends dividends
April 6th, 2020 - MTY Food Group MTY suspends dividend
April 2nd, 2020 - Cenovus Energy CVE suspends dividend
April 1st, 2020 - Corus Entertainment CJR.b defers dividend
April 1st, 2020 - A&W Income Fund AW.UN suspends distribution

March 30th, 2020 - Inter Pipeline IPL cuts dividend by 72%
March 23rd, 2020 - NFI Group NFI temporarily reduces dividend by 50%
March 20th, 2020 - Swiss Water SWP suspends dividend
March 20th, 2020 - American Hotel HOT.UN suspends dividends
March 20th, 2020 - BRP Inc. DOO suspends dividend
March 18th, 2020 - Enerflex EFX to cut dividend by 83%
March 17th, 2020 - Alimentation ATD.B boosts dividend by 12%
March 16th, 2020 - Shawcor SCL suspends dividend
March 16th, 2020 - Crescent Point CPG cuts dividend by 75%
March 12th, 2020 - Quebecor Inc QBR.b raises dividend by 77.8%
March 11th, 2020 - Stella Jones SJ boosts dividend by 7%
March 6th, 2020 - Vermilion Energy VET cuts dividend by 50%
March 6th, 2020 - Martinrea MRE raises dividend by 11%
March 5th, 2020 - Parkland PKI raises dividend 2%

February 27th, 2020 - Canadian Western Bank CWD raises dividend by 3.6%
February 25th, 2020 - Equitable Group Inc EQB raises dividend by 5.7%
February 21st, 2020 - CCL Industries CCL.B raises dividend by 5.9%
February 21st, 2020 - Magna MG raises dividend by 9.8%
February 21st, 2020 - Royal Bank RY boosts dividend by 3%
February 20th, 2020 - Kirkland Lake KL doubles dividend
February 20th, 2020 - Gildan GIL raises dividend by 15%
February 14th, 2020 - Toromont Industries TIH raises dividend by 14.8%
February 14th, 2020 - Enbridge ENB raises dividend by 9.8%
February 12th, 2020 - Goeasy, GSY, in our model Growth Portfolio, up 33% in 2019, raises dividend by 45%
February 10th, 2020 - Brookfield Infrastructure BIP.UN boosts distribution by 7%
February 6th, 2020 - Suncor SU raises dividend by 10.7%

January 28th, 2020 - Canadian National CNR raises dividend by 7%
January 28th, 2020 - Metro MRU boosts dividend by 12.5%
January 20th, 2020 - MTY Food Group MTY raises dividend by 12%
January 13th, 2020 - Brookfield Renewable BEP.UN raises distribution by 5%
Never miss a dividend announcement! Follow us on
Want more of this type of timely information about your stocks? Are you looking to exchange with like-minded investors? Do you have questions for our team of experts? If so, try our membership today. Take advantage of our free trial for the next month and experience all the benefits of the 5i Research membership. (and in case you are wondering, don't worry. We won't ask for your credit card upfront)