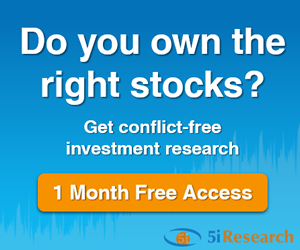 5i Recent Questions
Q: Taking a bit of a blood bath on Canntrust (-68%) and NVDA (-24%) watching Aurora Cannabis plummet and have some of that too. Get out now, buy or hold? Recommendations for alternatives with growth potential appreciated depending on your thoughts on the above 3.
Thanks.
Read Answer
Asked by Wendy on July 15, 2019
Q: I hold the above positions in the Information Technology sector of my US dollar portfolio that is balanced and well diversified. I am now able to add 1 or 2 Information Technology sector positions. Please provide me with your suggestions including weightings.
Also if you think that the above positions overlap one another, please let me know......Many thanks.....Tom
Read Answer
Asked by Tom on July 05, 2019
Q: Hi team. NVDA had a nice jump today (26th). Any news? Would you expect more of the same in the near future? I'm thinking of adding.
Cheers for now.
Read Answer
Asked by El-ann on June 27, 2019