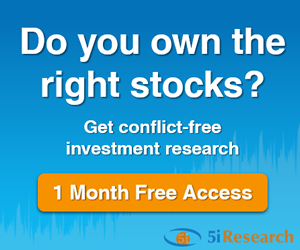 5i Recent Questions
Q: Please comment on the impact of recent US China tariff & Huawei development on these stocks. Which will suffer long term adverse effect ? Most come down a lot on May 20. Thanks a lot.
Read Answer
Asked by Lai Kuen on May 21, 2019
Q: Would appreciate your assessment of the merits of continuing to hold half-positions in BOX, NVDA, SQ, and SPOT, in search of above-average returns going forward and comfortable with risk. If you were on the sidelines, would you initiate new positions in any of the holdings, or alternatively are there merits in reducing any of these positions today in favour of more attractive risk/return opportunities in the US technology space (and if so, which tech opportunities have captured your recent favour)? Thanks for excellent services rendered.

Read Answer
Asked by Michael on May 15, 2019
Q: Can you give your top 3 stocks in Canada and US that you would pickup if the market turbulence continues this week?

Thanks,
Read Answer
Asked by Adam on May 14, 2019