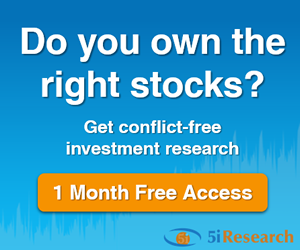 5i Recent Questions
Q: I own Apple, Amazon, Facebook and Google plus others. The four stocks have done extremely well for me. I have reviewed the charts for each stock and they go from bottom left to top right; the 200 day moving average looks great, the stocks touch the line and then moves higher; the top line and eps are getting better all the time; they are all spending significantly on RD for the next AI or AR or self driving cars or whatever; and they are dominate in their respective industries to name a few comments.
What gets in their way to make them stumble? Is this or these event(s) soon?

I canít see a reason to sell or trim.

Thanks as always.

Clayton.
Read Answer
Asked by Clayton on November 13, 2017
Q: From the list of us growth play, which 5 would you pick for your rrsp with 10-15 yrs time frame ? Or any other us stocks that stands out in your mind.
Read Answer
Asked by Paul on November 09, 2017
Q: Apologies in advance for the length of this question. I am working my way through a report by Bank of America Merrill Lynch on the medium to long term prospects of VR, AR and MR, (Virtual reality, Augmented Reality and Mixed Reality). The upshot is basically that they see very large growth in this sector with applications far and wide. Here is a link for anyone interested https://www.bofaml.com/content/dam/boamlimages/documents/articles/ID16_1099/virtual_reality_primer_short.pdf. There are established large tech companies (FB, AAPL and GOOGL) who are buying up companies in this area and there are smaller companies already working in this space. My question is twofold. Is it, in your estimation a good time to step into these large cap tech stocks if I currently have no position? And are there any companies that are directly in this space that you would recommend? Thank-you in advance.
Read Answer
Asked by Alex on November 09, 2017