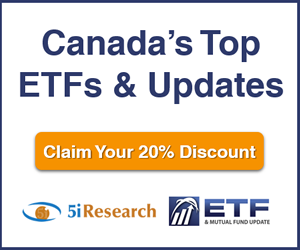 5i Recent Questions
Q: About a month ago, I sold these equities, with the only reason being to take a tax loss against gains I took earlier in the year. This has left me with some liquidity. What do you recommend regarding re-purchasing these companies, or waiting for a more stable or upward momentum. Generally, my portfolio follows your balanced equity portfolio.
Grazi,
c
Read Answer
Asked by Claus on January 02, 2019
Q: Hi Peter,
Please deduct as many credits as you see fit. I have some losers (some big) as per below:

Margin account
CLIQ down 52%
PHO down 37%
MX down 20%
TFII down 23%
ECN down 13%
NFI down 11%

TFSA
GUD down 17%
CLS down 20%
DOL down 38%
TSGI down 47%

RRSP
DOO down 43%
COV down 26%

Here are my questions.
1- Should I claim the capital loss with CLIQ and PHO and repurchase in 30 days?
2- Are there any names there that I should just sell and move on to something else? What would be your top 3 replacements for the removed names in that case?
3- My initial thought was to inject new money in CLIQ, PHO, DOL, TSGI, DOO and COV to bring these names back to my initial weight. Would this be a good move in your opinion?
These names are part of a diversified portfolio and donít need the funds for another 10 years minimum.
Much appreciate your service. Your responses to this market volatility have kept me from panicking as I did in 2008. I thank you for that.

Read Answer
Asked by Marco on December 17, 2018
Q: Good morning,
I currently do not own the above listed equities from the BE Portfolio which I follow pretty closely. Are there any you would not recommend purchasing right now? Thanks for your counsel. I am watching sector allocations.
Ted
Read Answer
Asked by Ted on December 10, 2018