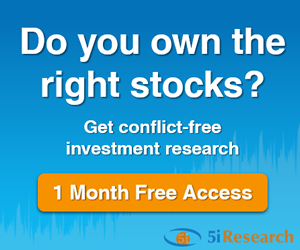 5i Report
AUG 21, 2017 - Logistics software provider with organic growth potential. Recent customer loss has added to volatility, but we view it as a short-term hiccup for a company focused on long-term growth. Rating maintained at 'B+'.
Download Report

5i Recent Questions
Q: Hello Team,
Could you analyse this company for me please? Would you recommend it over kxs?
Thank You,
Barry
Read Answer
Asked by barry on June 20, 2018
Q: Hi. There are several companies in the Canadian technology sector that I'm interested in buying. They are TSGI, KXS, PHO, CLS. How would you rank them in terms of their potential to grow? Thanks and have a good day.
Read Answer
Asked by Esther on June 15, 2018
Q: Would like your opinion on what company to add to my RRSP. I currently have BNS, TD, BCE, T, TRP, ENB and PFE. Would like some something with growth potential and a small dividend. I notice you seem to like SIS - would that fit in OR can you suggest others I can look at ? Thanks for your help.
Read Answer
Asked by JOHN on June 15, 2018