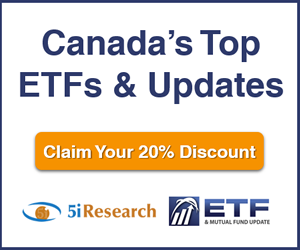 5i Recent Questions
Q: I currently own 200K in vbal, 200K in vgro, 150K in xwd and 50K in vee, I am thinking of switching out vee with zlu as zlu performs better in the long run and also vee is covered in vgro and vbal.
Thoughts?
Thanks
SF
Read Answer
Asked by Steve on September 17, 2019
Q: Hello,
I was wondering if there are one or two diversified ETF's that cover all sectors and all geographies. Could these ETF's replace a well diversified portfolio of 30 different ETF's which cover the same/similar sectors and geographies. This would simply the maintenance of my portfolio. I would also appreciate your opinion on the effectiveness of such ETF's if they exist.
Read Answer
Asked by Mauro on June 27, 2019
Q: If you could only buy one of these in the current market, which would you prefer and why. Is there an argument for holding both of them.
Thanks as always.
Read Answer
Asked by ronald on June 14, 2019