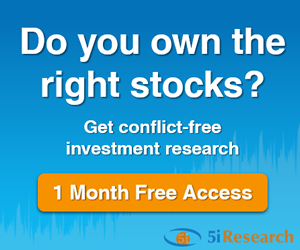 5i Recent Questions
Q: Hi 5i.

I have transitioned from 55 stocks to 25 hybrid (ETF (16) & keeper stocks (9)) 3 months ago, based on 5i Stock & ETF Growth/Balanced portfolios. Sleep better.

Question: Given 'Ya can't time the market', can one successfully/intelligently tweak holdings a bit based on current economic conditions?

Example: Given USA-China trade war risk, move 20% (VEE, VTI, VVL, XEF, AYX) to (ZAG, XBB, CLF, HFR, ENB). If market goes down -2%, swap half back. Another -2%, swap back remaining half; otherwise, do nothing. Do this at most say 3 or 4 times a year.

Am I just kidding myself that ETFs can be used differently than individual stocks?
I did buy more (VVL, VEE) with available cash when they went down -3% (last week) from when I bought them, with little emotion. Just felt 'smart'. Or am I deluding myself?

Thank you for your continued wise advise for 6+ years.
Read Answer
Asked by Paul on May 15, 2019
Q: Good Morning, I have been watching ZAG and XBB in order to deploy cash. Not sure when is a good entry point? I know we cannot time the market but what would you suggest I should look for (e.g.. off it's 52 wk high, net asset value etc). Which one would you prefer ZAG or XBB. Thank you. Heather
Read Answer
Asked by Heather on May 03, 2019
Q: Hi Team,

Question about income etf's, i have roughly 225k invested. I am 50 years old and have always been an aggressive investor. Usually an 80%equity to 20%income. In which etf or etf's would you allocated the 20%

Thanks
Read Answer
Asked by Rino on April 22, 2019