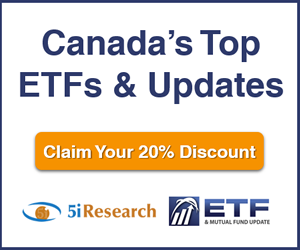 5i Recent Questions
Q: I am looking for an ETF for my TFSA that has broad coverage and that is not so heavily weighted in financials and energy. Would you have any concerns with owning these two ETFs.
Read Answer
Asked by Nancy on July 23, 2019
Q: How can I make XTR, CDZ, IGRO, CLF & VAB tax efficient? Which should be held in registered accounts and which in non registered accounts and why?
Thanks
F
Read Answer
Asked by Frank. I on July 16, 2019
Q: I am retired and have gone with a strategy of owing Canadian Dividend Aristocrat stocks in my unregistered account and Canadian ETFs in my TFSA. My RRSP and LIRAs holds US ad International ETFs such as VYM. I would appreciate you opinion on this strategy and can you make a recommendation for the best ETF for my TFSA.
Read Answer
Asked by Nancy on July 16, 2019