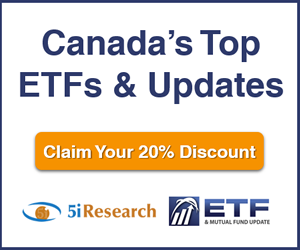 5i Recent Questions
Q: Which would you prefer for a 4 to 5 year hold in a rrsp,or would you recommend some of both? Could you please give your usual in depth analysis? Thank you.
Read Answer
Asked by Steve on April 02, 2020
Q: Which Canadian monthly income ETF would you choose XTR or ZMI? Is there another you think may be better?

thanks,
Paul
Read Answer
Asked by Paul on March 23, 2020
Q: Hello,
Please comment on my logic based on relative beta's :

If I sell my holdings of XTR and buy equal amount of ZRE, in theory, is there more of a chance that in a market recovery, the overall return for ZRE will be higher simply because it fell more and can therefore rise more?

Or is that too simplistic considering there are so many moving parts?

Many thanks!

Read Answer
Asked by Arzoo on March 18, 2020