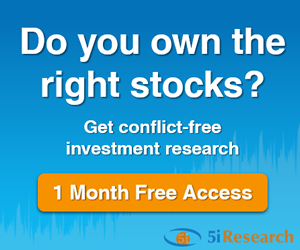 5i Recent Questions
Q: Hi Guys
I have no Healthcare stocks in my portfolio, i was thinking of purchasing the above Mutual fund to cover it. What weighting would you recommend and would you buy 50% now, or take a full weighting. Maybe taking a full weighting is fine as i will not be selling this purchase for years to come. However 2 years out we might see this fund drop maybe 40%..
Your opinion please.
Read Answer
Asked by Gordon on August 29, 2019
Q: I am looking to get some exposure to the health care sector and thought I would look at an ETF as opposed to a single company. I'm considering either XLV or IHI and would like your opinion of these two ETFs, and which you would prefer. I would be adding the ETF as a full position in my RRSP.

Also, if there is another ETF that you prefer over these two, please include that in your response.

thanks for your insight
Paula
Read Answer
Asked by Paula on August 06, 2019
Q: Hi, I currently have $11,500 to add to my TFSA with a long term horizon. I currently hold CNR (2.53%), NTR (2.88%), PLC (5.04%) PPL (2.98%), TD (4.21%), V (4.71), WCN (6.15%), XLV (3.31%) MAW 104 (25.11%). I am wondering if I should add to the current companies or might you have any other suggestions?
Read Answer
Asked by Penny on July 11, 2019