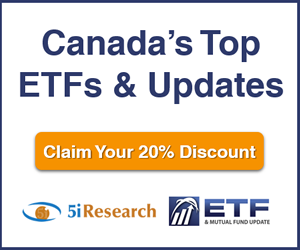 5i Recent Questions
Q: Are there etfs that trade in Canada that concentrate on US dividend growers and if so can you recommend any? Is any dividend income treated as US income? Thank you, Bill
Read Answer
Asked by Bill on July 12, 2019
Q: Enb in my portfolio has a book value of $42.16
And a yield of 7%. It now represents 10% of my portfolio. This my largest position in a portfolio of $630000. I generally buy for dividend and growth. Maybe I should reduce my position in ENB and take a 5% position in another dividend paying stock with growth potential. eg. CM or other opportunities. Any suggestions.
Read Answer
Asked by Roy on July 09, 2019
Q: I have a 2 year old RESP for a 3 year old grand daughter to which I will contribute in about a week on her birthday. It currently holds only VGG. Should I add the $3000 to VGG or can you suggest something else. I actively monitor my own investments but the RESP I look at only at this time of year.
Read Answer
Asked by Don on July 08, 2019