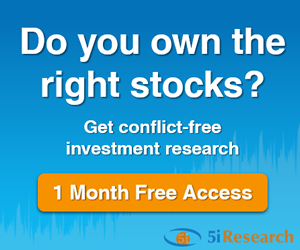 5i Recent Questions
Q: I am very fortunate to be a member of 5I,Thanks
I wish you were actively advising on US stocks meanwhile however
for me to start please suggest some US stocks or etf for not very aggressive
stocks with high volatility but something like BNS,SLF,td in Canada Income is not my priority but steady growth is in my mind not stocks like canabis?
I appreciate your sugestion and has always benefited from them
Nizar
Read Answer
Asked by Nizar on March 19, 2019
Q: In response to a question about a subscriber's portfolio you said "KO and JNJ we would consider less attractive for various reasons. We might add VZ and PFE instead.". I am holding JNJ in a non-registered account with a cost base of $58.36/share. JNJ is 2.5% of a diversified portfolio. Is it still worth making the switch for PFE? Over the years, JNJ seemed to be a much better managed company than PFE. What has changed?
Read Answer
Asked by David on March 15, 2019
Q: Hi 5i, please comment on my international div. group for global income or your own top 5 picks, thanks.
Read Answer
Asked by Peter on March 15, 2019