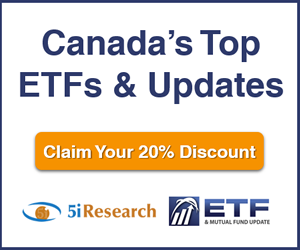 5i Recent Questions
Q: My fixed income PF % consist of CVD 1.85; XHY 2.10; CBO 1.87; CPD 1.81; and XTR 1.69 totalling 9.22.
Which one or two can I add to bring my total to 15%.
I am open to one new holding, as well. Thanks.
Read Answer
Asked by Charles on December 10, 2019
Q: Hi,

In your answer to James you suggested the following bond ETFS: XBB, XLB, XSB, CBO and/or XHY. I'm very interested in this as I'm trying to increase fixed income exposure.

What percentage would you suggest in each of the total bond portfolio? Also, unless I am missing something, CBO and XSB both appear to be the same thing, so why the need to own both?
Read Answer
Asked by Pamela on November 27, 2019
Q: Out of these 3 Bond ETF, which one would you chose and why?
Read Answer
Asked by Paul on November 25, 2019