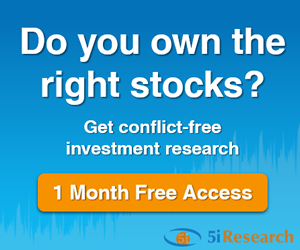 5i Recent Questions
Q: Given the fact that CNR has announced layoffs due to a slowing economy how do you this affecting the stock's performance over the next few years. Thank You.
Read Answer
Asked by Brian on November 19, 2019
Q: I think I need to increase my Industrial exposure by adding one more company. I have 4% in each of CAE, CNR, WSP. Perhaps one more at 2 or 3%. Any suggestions?
Read Answer
Asked by Dave on November 19, 2019
Q: Hi Guys

I came across this good review (printed below) of the book Railroader by Howard Green. The book outlines Hunter Harrison and what made him, and makes, an outstanding CEO. Wondering looking at current CDN companies which stand out as being lead by outstanding, visionary, numbers driven CEOs.

"Book - Railroader

Every so often there is a book that gets circulated around our office that sparks both conversation and action. Railroader, written by Howard Green, recently ignited this spark. You may recognize Howard Green as the founding anchor at Canada's Business News Network (BNN). Green chronicles the life of Hunter Harrison, the brash railroad expert who grew up on a railway spending five decades in the industry and rose from a labourer to the CEO of multiple railroad companies. Canadians specifically might remember Harrison as he has his fingerprints all over historic Canadian institutions. He ran and turned around both Canadian National (CN) and Canadian Pacific (CP) (as well as Illinois Central and a brief tenure as CEO of CSX before his death in 2017). Howard does a great job providing in-depth and genuine insight into the life and, more crucially, the thought process behind Harrison's decisions.

The book was engaging from our point of view because we have met with hundreds, if not thousands, of management teams and we're always on the lookout for what Hunter Harrison embodied. How was Harrison able to rise from lowly labourer to successful CEO multiple times over? Harrison knew more about railroads than anyone else. He grew up on a railroad and did every job along the way. Harrison was described as having an "encyclopedic knowledge of the industry" and used it to transform the businesses he led. There are instances in the book that describe his ability to identify a problem just by the smell. In other words, he had an edge.

Harrison was also a "numbers guy." He measured everything that could be measured. He was the first to implement computers in the day to day operation of a railroad and went on to pioneer Precision Scheduled Railroading, now an industry standard. When Harrison would look at the railroad's daily printouts, the numbers would jump off the page and he could see what the issues were. As Green describes, "Soon he was scrutinizing the return on assets, capital spending, depreciation, cash flow and revenue. He also wanted all of the regions on the railroad to be cognizant of these numbers." The combination of knowledge, measurement, and execution would show up in the railroad's operating ratio, the industry standard in evaluating performance, which Harrison would improve far beyond what industry experts thought possible, at all of the railroads he led. He knew what trains were capable of when everyone
else couldn't even imagine their potential. The ability to transform a commodity business to a service-based business that customers are willing to pay a premium for is truly remarkable.

Stuart
Read Answer
Asked by Stuart on November 04, 2019