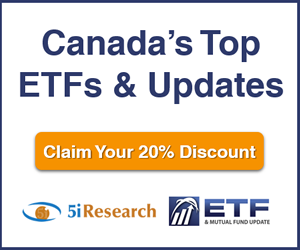 5i Recent Questions
Q: I am beginning to swing trade ETFs. Which do feel more closely mirrors the SPY since one cannot buy the SPX? Feel free to mention others I may have excluded but should be considered.
Putting aside any tax implications or type of account (ie: registered vs non-registered)
Considering the state of the C$ and the price of oil, it would seem more logical to go unhedged , what are your thoughts?
Read Answer
Asked by Larry on April 06, 2020
Q: Good morning,
My grand childrens' (8 years old) in trust accounts each have $60K in CASH and would appreciate your thoughts and comment on the merits of my following investment plan:
Q1. Investing $20K in each of these funds (HXS, HXT and HXQ) and not selling any of them until the children are 18 years old at which time they would each open a TFSA account and start transferring each year the maximum annual TFSA contribution allowable from their non registered account to their newly opened TFSA account; and
Q2. Assuming that you are ok with the above plan and given that there may well be still a further sell off in all three sectors, when would you recommend initiating a full or partial position in all three sectors? Thank you.
Francesco
Read Answer
Asked by Francesco on March 31, 2020
Q: Dear 5i
I'm always a little confused as to which companies are CDN hedged and which are not . Just because it's listed on the TSX doesn't` always mean that it is hedged I'm guessing . I'm also assuming that it looks like the CDN dollar is going to be weak compared to the US dollar for awhile .That being said which of the ETF`s listed above are CDN hedged and is it wise to have a balance of hedged and unhedged anyways ?
Typically you expect share prices to rise as earnings increase . With the state of the economy ie covid19 it is likely that earnings will be lower for the next couple quarters at least so there are few expectations for higher earnings from most companies .Given this , would you expect the market to rebound higher even before there are rising earnings simply on the anticipation that higher earnings will eventually happen once covid19 is proven to be under control , or do you think we would actually have to wait for increased earnings to occur before we would see any meaningful bounce in the markets ?
Please deduct points appropriately .
Thanks
Bill
Read Answer
Asked by Bill on March 20, 2020