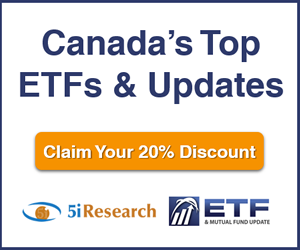 5i Recent Questions
Q: Hi, I currently have $11,500 to add to my TFSA with a long term horizon. I currently hold CNR (2.53%), NTR (2.88%), PLC (5.04%) PPL (2.98%), TD (4.21%), V (4.71), WCN (6.15%), XLV (3.31%) MAW 104 (25.11%). I am wondering if I should add to the current companies or might you have any other suggestions?
Read Answer
Asked by Penny on July 11, 2019
Q: For the purpose of simplicity I would like your opinion on these 3 ETF portfolios.
My idea is to rebalance 1 / year.
non registered: VFV 30% VDU 30% VAB 40%
TFSA: VFV 50% VDU 50%
RRSP: VOO 30% VIG 30% IWO 30% VAB 10%
Any suggestions as to changing the etf's used for better tax purposes ?
Are there better etf's that you would recommend using?
Thanks for your help .
Victoria

Read Answer
Asked by Victoria on June 05, 2019
Q: Good morning,
This is a follow up to my previous question re: Horizons Total Return Index ETFs and more specifically HXT:CA and HXS:CA that I intended to purchase as long term core investments in my grandchildrens' in trust accounts prior to recent proposed changes in the recent federal budget affecting the favourable tax treatment of Horizons Total Return ETFs (No distributions).
I'm still searching for a few great investment ideas that would be suitable as a long term hold in my grand children in trust accounts. IWO and QQQ were mentioned as potential candidates given their relatively low distributions but given that the in trust accounts are already set up to hold investments in CDN $$$ and to offset currency risk, could you please recommend three or four ETFs, stocks or combination thereof that distribute little or no distributions and that you believe would be suitable as a long term hold in my grandchildren in trust accounts. My intention is to invest approximately $50K in each in trust account. I thank you in advance and look forward to your specific recommendations.
Read Answer
Asked by Francesco on April 29, 2019