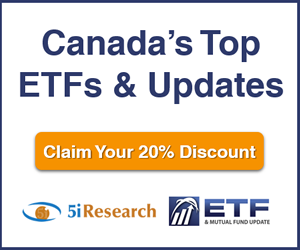 5i Recent Questions
Q: Hi all, I'm concerned about some of my holdings based on the rising US Covid19 cases. As such would like to raise my cash position for the eventual pullback in USA market. Please select from my list the first to last to sell or reduce in order. Thanks for all you do.
Read Answer
Asked by Peter on June 30, 2020
Q: Good morning,
I own a small house in Ottawa that is free and clear with a current market value of approximately $350,000.
A recent discussion with my trusted mortgage broker confirmed that a 5 year term (Closed & Fixed) term mortgage can be obtained at a rate of 2.29%. This mortgage is said to be:
a. insured through CMHC,
b. portable, and
c. transferable.
At that rate of 2.29% and given that the interest paid would be tax deductible if I use the funds for investment purposes, I'm seriously considering borrowing around $200,000 and investing this amount for an initial 5 year period with an expected net rate of return on investment of 4.5% .
Q1. With $200,000, what are your thoughts of splitting this amount in 5 different chunks of $40K in the following instruments:
a. Mawer Tax Effective Balanced Fund,
b. Mawer Global Balanced ETF Fund,
c. Vanguard Balanced ETF Portfolio,
d. IShares Core Balanced ETF Portfolio, and
e. BMO Balanced ETF

Q2. As an alternative to the above and given the 5 year time frame, would your preference be to invest the $200,000 in a selection of best in class individual stocks split between different sectors and if so, would you be so kind as to provide me with ya listing of your best ideas at this time.

I thank you and look forward to hearing your thoughts on both of these investment strategies.
Francesco

Read Answer
Asked by Francesco on June 15, 2020
Q: Can I get your thoughts on these two? Would you prefer a specific airline or two over jets? How would air Canada stack up ?
Read Answer
Asked by david on May 12, 2020