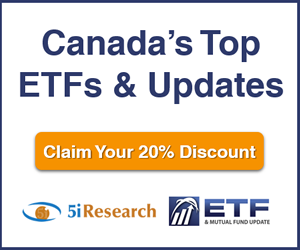 5i Recent Questions
Q: If you were to start an resp now, would you consider these etfs as suitable or a combination thereof,or do you have alternatives? Thanx.
Read Answer
Asked by Steve on September 09, 2020
Q: Dear 5i,
I would like to spice-up my portfolios with small allocations to some small/mid-cap/thematic/sector ETFs. The Active ETF's can be sold on a US or CDN exchange and the holdings can be in any country. Can you suggest as many as you can so I can do some further research. (ie ARK products look interesting to me)

thanks for your suggestions
Read Answer
Asked by Ian on July 31, 2020
Q: I have $40,000 US to invest for 5 -10 years. With half of that amount I would like to buy about four equity-based ETFs for capital appreciation. Some I have read about include QQQ , BBH, and VGT. Are these good choices? Please add other recommendations.
For the other half, I would like more income based ETFs with a sensible degree of risk, such as VIG. Please add other recommendations.
I am not interested in Canadian based ETFs but International based ETFs would be alright.
I do no previous experience with ETFs.

Read Answer
Asked by George on June 16, 2020