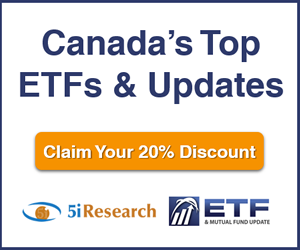 5i Recent Questions
Q: good morning,

I have been reading that RY and TD are more full valued at present than are BNS, CM and BMO. I own all five banks and am wondering if its a good idea to sell RY and TD and buy one or more of the other three banks. If this makes sense to you, which bank(s) would I buy, in order of preference.

as always, your advice is appreciated.
Read Answer
Asked by Alex on September 03, 2020
Q: Hello Peter, I am intrigued after reading that a Canadian can earn about $50,000 per year of dividend income without paying any income tax. I know about your income portfolio of course, but with a view to maximizing just Canadian eligible dividend income, what would you think of the following portfolio of 14 stocks. Equal weighted, the stocks would yield 5.3%. (Disregard lack of market diversification; this can be achieved in one's registered accounts.) Also, if one wanted to pare down the list to 10, which 4 would you delete?
BCE, CM, ENB, FTS, CNQ, AQN, CPD, FSZ, MG, KBL, POW, ALA, BIPC and NTR. Thanks!

Read Answer
Asked by James on August 27, 2020
Q: I own all of these (similar amounts) and bought LB to boost income. Now its yield is less than the other two do you think it makes sense to switch into the other two? Thanks.
Read Answer
Asked by David on June 01, 2020