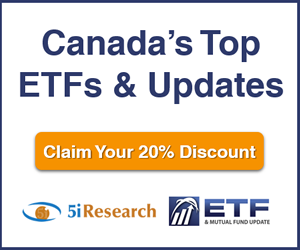 5i Recent Questions
Q: CNQ is very attractive at the current level. Is the payout level for their dividend a problem? Thank you.
Read Answer
Asked by Donna on September 10, 2020
Q: Hello Peter, I am intrigued after reading that a Canadian can earn about $50,000 per year of dividend income without paying any income tax. I know about your income portfolio of course, but with a view to maximizing just Canadian eligible dividend income, what would you think of the following portfolio of 14 stocks. Equal weighted, the stocks would yield 5.3%. (Disregard lack of market diversification; this can be achieved in one's registered accounts.) Also, if one wanted to pare down the list to 10, which 4 would you delete?
BCE, CM, ENB, FTS, CNQ, AQN, CPD, FSZ, MG, KBL, POW, ALA, BIPC and NTR. Thanks!

Read Answer
Asked by James on August 27, 2020
Q: I took your recommendation, three weeks ago, to switch to CNQ from SU, as I sold my SU (tax loss harvesting), with the plan to re-buy SU (and sell CNQ) after 30 days. So far, this is working out, as my CNQ position is up 9%, and SU has fallen a bit further, since these trades. With the 30-day period ending in about a week, I am reconsidering things, and would like your input. I am a long-term buy & hold investor, and have always liked SU (essentially created a business out of nothing, that has prospered remarkably over the decades, current headwinds--green opposition, pipeline constraints, demand collapse, etc--notwithstanding). BUT, how would you compare and contrast the LONG-TERM prospects for SU versus CNQ, now that I'm faced with another decision-- should I just keep my CNQ position (with very early "success"), or should I stick with Plan A, and go back to a SU position (overall, we're talking about SU or CNQ being ~1.5% of my portfolio, and oil & gas overall ~3.5% of my equity portfolio, 2/3 Canadian 1/3 foreign). And please provide a rationale for your answer.
Ted

Read Answer
Asked by Ted on August 10, 2020