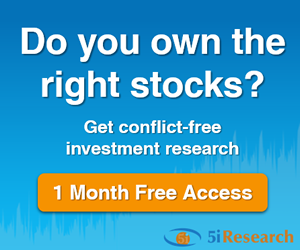 5i Recent Questions
Q: Hi 5i team,
From your 3 portfolios, which are the stocks that interlisted on US exchanges, and which stock pay their dividends in US$? Thanks.
Read Answer
Asked by Willie on April 20, 2018
Q: Hi 5i
Sorry if you receive an unfinished question from me as my computer is doing some strange things. I have been looking at MX graph for last year and comparing to share buy backs. The latest increase in share price is coincident with March buybacks as occurred in September as well. Then the price seems to drop off in a bit of a decline. I see that institution selling seems to be in line with this as well. So I guess my question is, should I wait to buy until the share buyback declines.
Regards
Kathy

Read Answer
Asked by Kathy on April 20, 2018
Q: If you were thinking that there may be a merger between these two companies, had CDN & US cash to deploy in both, and were not over-weight in the sector, would you purchase both companies? If you were to only choose one to benefit the most, which would you enter into at today's prices?
Thanks!
Read Answer
Asked by Susan on April 19, 2018