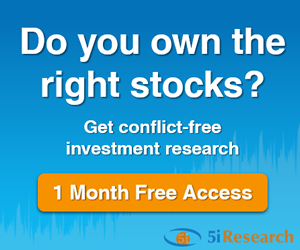 5i Recent Questions
Q: Hi, I currently have $11,500 to add to my TFSA with a long term horizon. I currently hold CNR (2.53%), NTR (2.88%), PLC (5.04%) PPL (2.98%), TD (4.21%), V (4.71), WCN (6.15%), XLV (3.31%) MAW 104 (25.11%). I am wondering if I should add to the current companies or might you have any other suggestions?
Read Answer
Asked by Penny on July 11, 2019
Q: Unlike many 5i people, I purchased Waste Connections at its high and have been watching the share price erode daily . Today it goes ex-div and I am considering getting out and taking a loss. Would you buy-hold-or sell if you were in my situation ? .... Thanks to 5i , I have a balanced and broad portfolio .
Read Answer
Asked by Thomas on July 02, 2019
Q: Hi - I like both of these companies. Which would you prefer for safety and perhaps a little long term capital appreciation. Thanks
Read Answer
Asked by Gary on May 30, 2019