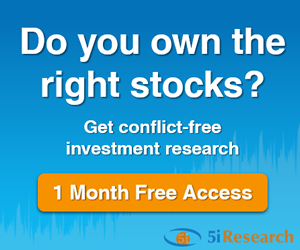 5i Recent Questions
Q: Good Morning 5i,

Can I get your latest opinion on GOOS, it hasn't been performing great. Do you see it as somewhat of a China trade proxy as it is looking to further expand into China?

Thanks!
Dave
Read Answer
Asked by David on April 10, 2019
Q: Hi Team,

I have owned RET.A for a few years now and I am under water on this position. Is the stock worth holding on to or is it best to sell and move on? And what stocks would you recommend as alternatives in the Canadian market with good upside potential?

Thank you.

Dave
Read Answer
Asked by David on March 12, 2019
Q: Do you still consider MX a buy after recent price surge?
What is the percentage of earning come form China sale ? Is it at good entry point now for GOOS as the Huawei event will take years to solve .
What is your 5 favorite US stocks under current environment for 30 years old with job.
Thanks for your excellent service.
Read Answer
Asked by Lai Kuen on March 06, 2019