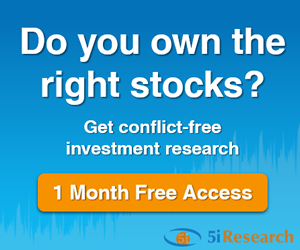 5i Report
JUL 04, 2017 - Powersport vehicle and propulsion system manufacturer and distributor that initiated a new dividend, is buying back shares and faces international growth opportunities. Board structure does offset some of the positives. Initiating coverage at 'B'.
Download Report

5i Recent Questions
Q: I asked this question yesterday, however it appears it was missed:
"I have some cash to allocate for RRSP & TFSA portfolios and would like your opinion for the above list for both CDA and US.
For RRSP: Which two from each CAD and US would you buy today (after the stormy few days) for a more conservative hold 3-5 years, that would potentially have less volatility while continuing to grow sales and earnings.

For TFSA: Which two from each CAD and US would you buy today for more growth opportunity and share appreciation in the next 3-5 years.
Please give your reasons for the ones you would choose without sector allocation considerations.
I currently hold TSGI & MX (down on both) but am ok with that."




Read Answer
Asked by Joseph on October 29, 2018
Q: Why the big drop Friday,don't see any news?
Read Answer
Asked by Terry on October 22, 2018
Q: DOO is down 30% in last month. Technicals are totally broken (18 bearish, 2 bullish) and I can't find anything on it except the secondary in September.

What do you think is going on here to cause such a precipitous drop, with no strength in site.

Thanks

Sheldon
Read Answer
Asked by Sheldon on October 10, 2018