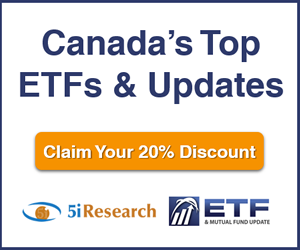 5i Recent Questions
Q: Hi, for my fixed income portion of my portfolio, I am contemplating either VAB or just buying a GIC that has 2.65% interest. (Or both?) Medium term investment of about 10 years. Is it a good idea to get into bonds right now?
Read Answer
Asked by Reina on January 16, 2020
Q: In this ultra low interest rate environment, where it is maybe more likely for rates to climb than to fall, do you think the best place for the income component of a portfolio, aside from GICs, is in a bond ETF like VAB or a savings ETF like PSA?

Thanks.
Read Answer
Asked by Alan on January 14, 2020
Q: Reviewing the issue of asset allocation and I must say that I have been avoiding bonds. The ETF approach interests me, but when to by is a mystery, re; haven"t seen bond gains lately. Appreciate any clarification you can provide & thanks!
Read Answer
Asked by Bruce on January 14, 2020