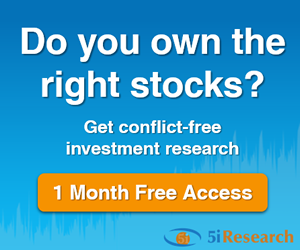 5i Report
JAN 17, 2018 - Railway tie and utility pole provider that offers stability with some growth potential. Rating downgraded one notch to 'A-' on a lower growth outlook.
Download Report

5i Recent Questions
Q: Pricing in SJ's railway tie category is under pressure, negatively impacting operating margins (granted, margins are forecast to improve in H2 2018). My understanding is that alternatives, like concrete ties, are much more expensive. Given SJ produces an essential product for the railway sector, why does the company not have more pricing power? Thank you.
Read Answer
Asked by Edward on April 20, 2018
Q: Which of the listed companies do you reckon has the best prospects for a 1-year hold from current levels? How about for a 10-year hold?
Read Answer
Asked by Andrew on April 16, 2018
Q: Any reason the stock is not doing well inspite of a 9.1% increase in divident? Would you suggest adding to a half position? Thanks. Shyam
Read Answer
Asked by Shyam on April 13, 2018