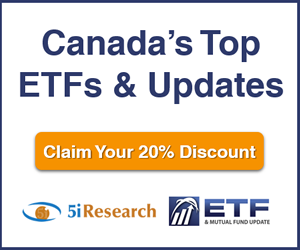 5i Recent Questions
Q: I am considering purchase of one of the following 3, CTC, BNS, LB.

If one were to analyze the decision to purchase one of the 3 according to dividends only.

The question is spending 100 000 dollars to purchase any given one of the 3 today, along with the following assumptions, hold x 10 years, no dividend cuts and ongoing ANNUAL dividend growth at present rate (based on present dividend and last years' dividend growth)
CTC present dividend 1.038 dividend growth last year 13 %
BNS present dividend 0.87 and dividend growth last year 5.9%
LB present dividend 0.65 and dividend growth last year 4.2%

At the end of 10 years, WHAT WOULD MY DIVIDEND FOR EACH be in dollars ?

(I can't seem to get the math right and can't find a website calculator to help me.)

Your opinion about the PROS AND CONS of my approach to dividend investing would also be welcome.


Read Answer
Asked by Ernest on March 20, 2019
Q: Further to my question about undervalued Canadian dividend paying "blue chip" equity, what do you think of Canadian Tire?

1. Does it fit the above criteria, if not why
2.Present value, is P/E the right way of assessing
3.Immediate risk of further decline for CTC specifically or its' sector

thank you

Ernie
Read Answer
Asked by Ernest on March 19, 2019
Q: I'm looking to invest a small amount of money for an 8 year old, primarily to introduce him to investing. I'd like to invest in companies that he can see the name of around the city, or in his hand to make it 'real' to him. Are there 2-3 such companies that you could recommend for a keen youngster? An ETF that includes recognizable companies to a child is an option, if you can recommend one also.
Read Answer
Asked by Lois-Leah on March 18, 2019