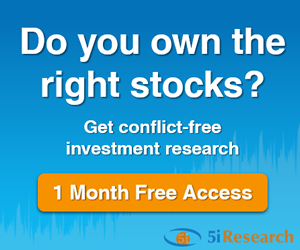 5i Recent Questions
Q: Just finished portfolio analytics. Very underweight healthcare with only BIIB in my US holdings. Also learned the following make up less than 1% positions. Which would you add to and which could be let go. Have significant tech exposure. Can you suggest another US helathcare company or should I just add to BIIB to a reasonable weight.
Read Answer
Asked by Paul on April 16, 2019
Q: I would appreciate any comments on earnings. I read it as a small miss. Management obviously has some confidence in that they increased the dividend. Would you still hold as a core industrial in a US growth portfolio? My other US industrial is UTX.
Read Answer
Asked by Paul on July 25, 2018
Q: Please deduct number of credits that you deem appropriate. I essentially follow and hold your balanced equity portfolio. It is supplemented with the following US stocks. JPM, STZ, SPOT, NVDA, GOOG, TEAM, UTX, HXL, BIIB and WYNN.

I originally bought WYNN for a trade on the recent dip caused by the Steve Wynn situation. Should I keep it as a long term position or take my profits and look elsewhere.

I have funds for one more position. Do you have any suggestions or should I add to some of the stocks I have.

Are there any of these stocks that you would sell and if so what would you suggest for a replacement.

Thank you for your service! I am sure someone else will ask but please let us know about your thoughts on SIS earnings release. It looked like a miss.
Read Answer
Asked by Paul on May 14, 2018