Before we jump into this post, we are excited to announce that the 5i Research team is growing again. We want to welcome our newest addition to the team, Moez.
Moez comes to us from one of Canada's largest banks and has completed all three levels of the CFA examinations. To start, he will be focusing on the ETF side of things, providing insights and analysis to the ETF and Mutual Fund Update (ETFMU). While this is where he will start, we have no doubt that his insights and analysis will have an immediate impact on all areas of our research.
Within ETFMU, Moez will be a key part in helping us build some ETF tools for members as well as some asset allocation model portfolios and being a key support in the research function of this service.
5i Research celebrated its seventh anniversary a few months ago and quite frankly we are proud with how this service has developed for our membership both in terms of value and results so far. But we are not done yet and have some really exciting developments in the pipeline. We will provide more details on this when appropriate but exciting changes are planned within six month's time (if all goes as planned!). In the meantime, we are happy to welcome Moez to the team and are offering a 25% discount to the ETF Update. The post below is a typical example of what can be found within the ETF Update.
You cannot turn on a T.V. or open up a computer without hearing about trade wars or tariffs it seems. The United States has increased pressure on China, sending the Shanghai Composite into bear market territory, down 20% from its high. It has also impacted companies in Canada that are deemed to be susceptible to higher prices from the tariffs and almost ironically, even companies in the US that they are trying to 'protect' such as Harley Davidson which has noted it is moving some production to Europe to help combat higher prices from tariffs.
While how this will impact any single economy or company remains uncertain, the common thread here is that it is adding a lot of uncertainty for investors and markets hate uncertainty. For investors looking for ways to stay invested while hopefully avoiding significant trade disruptions, here are a few areas we think that an investor can focus their attention on:
Small and mid-cap ETFs
While smaller companies typically do come with more risk in terms of volatility, they can also be sheltered from other risks. Due to their smaller size, small and mid-cap companies generally have more of their business concentrated on domestic customers and in turn are not trading with international partners. Of course, less international trade means less tariffs they have to deal with and less sensitivity to a reduction of international business. In other words, if a large company has ~50% of business coming from international regions, a hit to this revenue source could lead to issues around business sustainability (like paying debt or maintaining market share). If you are a smaller company, on the other hand, and have something at or below 20% international exposure, it is going to be a bit easier to deal with a loss of business from this source. While no impact due to these trade issues would be ideal, the small and mid-cap space is at least better insulated than larger companies.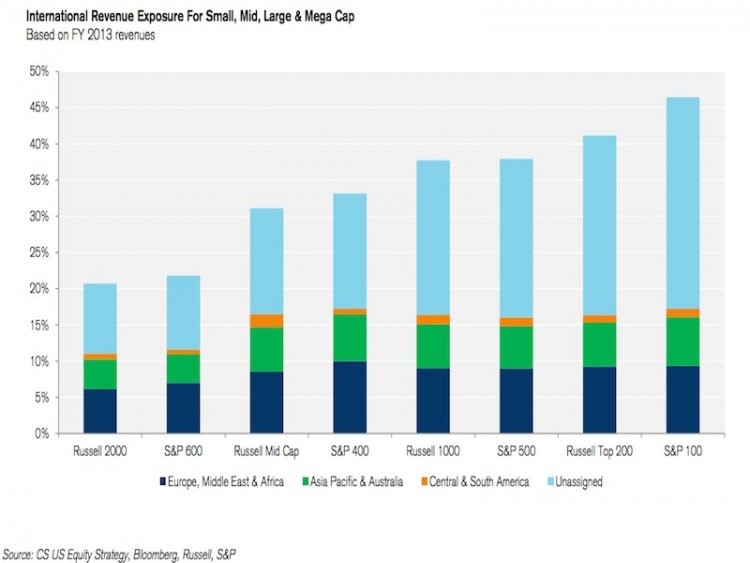 The above image shows that smaller companies as represented by the Russell 2000 and Russell mid-cap indices have something closer to a 20% to 30% exposure to international markets. Compare this to large and mega-cap names represented by the S&P 500 and S&P 100 and revenues approach something closer to 40% and 45% of revenues coming from international sources. While this chart from Credit Suisse, via Business Insider is a bit long in the tooth being from 2013, we think it is safe to assume that larger companies have only increased their exposure to international markets over the last five years. This is not a perfect answer to trade concerns as rising costs of inputs could still hurt margins at a smaller company but this group should still see less of a direct impact from trade issues.
Three small/mid-cap ETFs to consider:
Tech stocks
The idea here is simply that it is difficult to charge a tariff when there are not physical goods crossing a border that can be charged. Technology companies, largely operating in the cloud or online tend to fit this definition. It is not perfect due to some tech companies dealing with hardware but we think it is safe to say that the majority of companies in this industry should be able to mitigate impacts from trade tariffs.
What they are more susceptible to are barriers to investment from foreign capital which we are seeing the US look at with regards to China. So again, even tech companies are not immune from these risks but they have much less direct exposure to these issues and also have much higher margins to adapt and adjust to changes in prices. If you're a company like Facebook with a net margin in the 30% to 40% range, you can withstand some tariff/investment restriction a lot easier than a Harley Davidson with margins of 10% and who is already looking to move production overseas to adapt to trade tensions.
Three technology ETFs to Consider:
Inflation hedges
One of the more likely outcomes from trade wars is inflation. Tariffs on goods coming into a country mean that costs of goods need to go up to account for it. The obvious hedge to inflation is that of real return bonds and treasury-inflation protected securities. These fixed income products essentially provide a return that is equivalent to inflation so the real value (i.e the buying power of your money after inflation or increased costs remains the same.
Two inflation protection ETFs to consider:
Contrarian ETF plays around trade wars
For a more speculative and higher risk investor, we think it is worth considering the possibility that all of this trade war talk is simply posturing. The thesis would be that the various sides are looking for weakness, hoping the other will blink and when they are brought to the edge of the cliff, they invariably pull back and tone down the rhetoric with only minimal and more symbolic actions being left, opposed to anything impactful and material.
Interestingly enough, this seems to have been the trend so far, where decisions seem to be brought to the brink only to be toned done and rationalized when push comes to shove. The risk here is that the parties involved are serious this time and are willing to plunge over the cliff.
Regardless, here are three ETFs to consider for a more contrarian view: