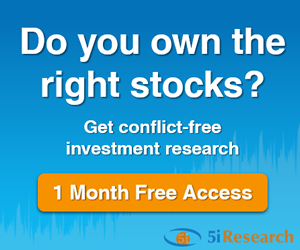 5i Recent Questions
Q: I want to buy these stocks in my RRSP account for a 5 years hold. Please comment on the financial of these stocks. Why is QSR down in recent few days while the market is rising so much. Why is Warren Buffett interested in this stock . Thanks a lot .
Read Answer
Asked by Lai Kuen on January 10, 2019
Q: Iím looking for some income and some growth. Assuming proper diversification, how would you rank these?
Read Answer
Asked by Alan on January 02, 2019
Q: Would appreciate knowing your top Consumer Discretionary pick from the viewpoint of 1) Growth and 2) Income. Thanks for your good advice guys.
Read Answer
Asked by Arthur on November 08, 2018