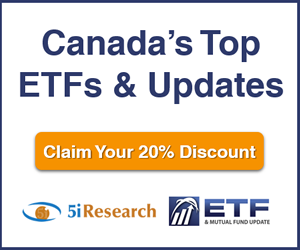 5i Recent Questions
Q: If you could see into the future and knew COVID, people's fear of COVID, the economic effects of COVID were all gone ( basically a complete return to normal scenario was 100% for sure in 2021/2022) what basket of Canadian stocks would you purchase now for longer term hold (5-8 years).
Read Answer
Asked by Ryan on October 27, 2020
Q: I have a sizable piece of QSR and am a little concerned going forward. What is your view. Should I ride it out or move on? perhaps trim?
Read Answer
Asked by John on October 13, 2020
Q: This is actually a followup question to your answer to Steve's question from earlier this morning.

I also hold a core position in TRP. Dividend investor. Intended to hold 'forever'. I'm 43.

I couldn't tell from your answer to Steve's question whether you view TRP as a 'BUY', 'SELL', 'HOLD' or 'GRADUALLY TRIM UNTIL DIVESTED'. You had previously opined that oil will likely subsist as a fuel source in demand for 20+ years. That would take me to age 63. What do you think is the likelihood that TRP continues to pay and grow its dividend for say, 50 years? I know given the time frame, this is a very difficult, speculative, predictive question, but your guess is better than mine. I don't want to hang on to this position only to have to sell it at a massive loss 20 years from now, but that is the scenario that appears to be gradually unfolding now.

I hold a fairly concentrated portfolio of 20 companies, equally-weighted, and each is selected with the intention of holding for their sustained, rising dividend payments in perpetuity. When this is threatened, either imminently or in the medium to long-term, I sell. I sold SU when they cut their dividend and am glad I did.

Given this context, should I exit TRP? If so, should I use the proceeds to start a new position in AQN? I already own FTS and EMA, would this be too much overlap or too much utilities exposure? If so, I am relatively light on Consumer Discretionary (only hold CTC.A in this sector and have been eyeing QSR - do you think a switch from TRP to QSR would make more sense?

Please deduct as many credits as necessary, this was actually *many* questions in one.
Read Answer
Asked by Walter on October 05, 2020