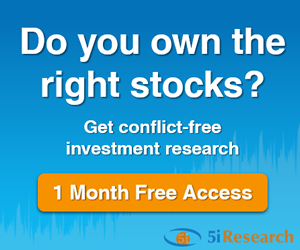 5i Report
NOV 17, 2018 - Manufacturer of optical instruments with strong fundamentals and cash. Currently facing some industry issues, but the company is well-positioned to diversify revenues and break-through. Rating maintained at 'B-'.
Download Report

5i Recent Questions
Q: What is your short term and long term outlook for Photon Control?
Read Answer
Asked by Maryon on May 17, 2019
Q: I have some cash to add to a small growth , non-registered portfolio, holding TSGI, SYz, COV . Looking at MCR or PHO . Would you recommend either of these or would you suggest an alternative. Or would you prefer just adding to one of the 3 existing ones.
Many thanks as always.
Read Answer
Asked by Alexandra on May 15, 2019
Q: In regards to share buy backs, do you companies employ someone to watch the daily price and take advantage of dips, maybe even help support the stock price in a slide, or is it more systematic?
Read Answer
Asked by John on May 10, 2019