Well Health's business model derives revenues from health clinic operations and SaaS revenue from digital assets the company develops and acquires. Here is a bit of a breakdown where the opportunities lie and the competition:
1) Clinical- The majority of health care clinics are owned by independent doctors and physicians who are not using modern technology solutions. The fragmented nature of the industry presents acquisition opportunities for WELL and other competitors in the space. Well Health currently owns and operates 21 clinics which is one of the largest clinic networks in British Columbia.
2) Digital and EMR - Telus Health is the dominant player in the Electronic Medical Record (EMR) market serving approximately 23,000 physicians, followed by Loblaws serving 15,000 physicians, then WELL in third place serving 10,000 physicians. A study from Laurentian Bank estimates the addressable market to be approximately 69,000 in-clinic physicians, so there is still some opportunity to capture some market share between these three players. WELL's digital portfolio is based on an EMR software known as OSCAR, (Open Source Clinical Application Resource). OSCAR is a web‐based open-source EMR system originally developed by McMaster University and is made available as a software solution through WELL over 2,000 clinics and over 10,000 doctors for various applications. OSCAR represents 15-20% of the EMR market and WELL owns the majority of OSCAR service providers. This side of WELL's business is still small at less than 8% of revenues, but very lucrative given the SaaS nature, with EBITDA margins for digital services being in the 20-30% range.
More recently, these two lines of business (clinic and digital) have become much more interconnected and have the potential to unlock cost synergies for health care clinics while providing a better health care experience. We think WELL is one of the better-positioned companies to capture these synergies. To understand the competitive landscape a bit better, let's take a closer look at the major competitors to WELL in these two areas below.
Loblaws
After acquiring Shoppers Drug Mart in 2014, Loblaws (L) has been investing in health care. Not only does Loblaws have access to Canada's largest pharmacy chain, but also has medical clinics in many of its grocery stores. In 2016 Loblaws acquired QHR Corp, a company that provides EMR software for physicians and more recently partnered with Maple to provide telemedicine services at select Shoppers Drug Mart pharmacies.
Telus Health
Telus is more focused on the EMR software side of things and less on clinics (only one physical clinic in BC). The telecommunications company's health division provides virtual appointments (Babylon), software for health care professionals, software for pharmacies, group health benefits solutions and 'eClaims' for insurance reimbursement among other software services.
While it seems quite daunting of a task for a relatively newer and smaller company like WELL to compete against these Canadian heavyweights, WELL actually stands a fighting chance. For starters, WELL is the third-largest EMR provider after Telus and Loblaws, so if anyone can compete in that realm it would be WELL. The company also has a lot more skin in the game (arguably all skin) in healthcare technology compared to Telus and Loblaws, which rely more on their other telecommunications and grocery businesses respectively. We think this sets WELL up for being a faster innovator as the company needs to 'stay alive' and get ahead. Finally, from an investment perspective, if one wants to get exposure to telehealth in Canada, it would not make much sense to get it through Telus or Loblaw as it does not represent a significant part of their overall business. As a technology company, WELL also has an advantage on the innovation side compared to Loblaws and Telus. For exposure to a company that is more likely to benefit from the growth in telehealth and digital health care, WELL is a top candidate in our view.
Teladoc and CloudMD
Companies like CloudMD (DOC.V) and Teladoc Health (TDOC) are more what we would view as Well Health's actual peer competition. However, there are a few reasons why we think WELL is unique:
1) Strongest health care technology company in Canada of its kind (currently double the size of DOC.V).
2) Home-court advantage compared to US competitors like TDOC.
3) Access to the lucrative US market.
CloudMD actually has a very similar business model to WELL as it offers digital health solutions and has made the shift to acquiring and operating clinics in recent years. While the reality is that competitors in the same industry often 'copy' one another, this may suggest that WELL has been more of a leader in business strategy than CloudMD. DOC.V does deserve credit for differentiating by partnering with pharmacies to provide 'telebooths' for instant consultations with doctors and acquiring actual pharmacies. CloudMD is also trading at very similar sales multiples to WELL (see valuation discussion below) and both are expected to grow sales in the range of 120% next year. Though CloudMD is about half the size of WELL in terms of market cap, the company certainly has the potential to compete with WELL in the future, especially after their recent acquisition of Canada's largest medical directory of doctors and health professionals. After all, the digital health space is still highly unsaturated and there is plenty of room for innovation.
The home-court advantage for WELL compared to a company like TDOC is due to the fact that the biggest source of health care spending is the Canadian government. This in turn means tighter regulations on what doctors can charge and potentially a preference by the government to deal with companies operating within the Canadian ecosystem.
Meanwhile, WELL is able (and currently is) to compete in the more open and competitive US markets. The company also recently acquired DoctorCare - the market leader for 'Billing as a Service' for Canadian doctors, which WELL plans to use to expand into the wider North American medical billing and back-office marketplace. Even if WELL is only able to take a very small market share in the US, this still presents a lot of growth runway for the company. As we discuss in our report, a significant part of WELL's growth strategy is to acquire clinics which is a wide-open landscape in the US.
WELL recently entered the US market by acquiring a majority stake (estimated to be 50-60%) in Circle Medical. The Silicon Valley-based telehealth provider also operates a couple of clinics. After an initial small investment of $0.2 million in November 2018, WELL built ties with the management of Circle, which suggests to us that WELL takes a careful and prudent approach to acquisitions. This could also be telling of what future acquisitions could look like. We generally are very wary of companies that make impulsive acquisitions that turn out to be assets that either lack quality or overpay for companies, making it harder for the acquirer to extract value from the target company. Here is a simple breakdown of the Circle Medical acquisition and the resulting valuation:
Table 1

Considering Well Health's investment in Circle Medical of $14M and an estimated stake of 55%, this would value Circle Medical at approximately $25M. With a revenue run rate of $5M over the last twelve months, this implies WELL purchased Circle Medical at a sales multiple of about 5x. While 5x revenues is not cheap, this is actually quite attractive considering sales are expected to increase significantly for Circle with Well's support and that it is lower than the sales multiples of other telehealth providers in the US and Canada like CloudMd, Teladoc, Oak Street Health, One Medical and of course WELL (See peer chart below EV/sales multiples). Another positive is that Circle Medical has already turned a profit earlier in 2020.
Management with experience in tech and health
The management team consists of members with years of experience in both tech and health which is befitting given the company's focus. The CEO Hamed Shahbazi founded TIO Networks Corp, a former TSX‐V listed company, which was acquired by PayPal in 2017. Another executive also has previous experience as a director at QHR Technologies (owned by Loblaw) which is a direct competitor to WELL in telehealth. Insiders own more than 20% of the company with Shahbazi owning ~15%. As always, we like to see that management has skin in the game.
Some thoughts on WELL's Valuation
The table below shows WELL's valuation multiples compared to some peers we have mentioned. Certainly, WELL is not on the cheap side when viewed in terms of Enterprise Value (EV) to sales (table 2), but investors are paying a premium for leadership in the space and arguably, after an $80 million bought deal, a lot of cash to make more accretive acquisitions.
If we assume WELL continues to acquire health clinics with the same revenue per acquisition dollar and the company uses 75% of current cash over a five-year period, the company could reach a range of $500 million in revenue by year five. Assuming WELL can reach this revenue range (which we believe it can), that would put WELL at ~2x sales in five years based on the current price (compared to ~25x sales based on next year's sales). Reasonably, we would expect WELL to trade at a higher multiple than 2x in the future given the growth profile, so even assuming a 3x or 4x sales multiple in five years could give current shares upside potential over five years (Table 3). The caveat to this is that a very high multiple today implies a lot of potential volatility in the stock and of course, WELL has a long way to go from current twelve-month trailing revenues of ~$40M revenues.
Table 2

Source: Refinitiv – Eikon
Table 3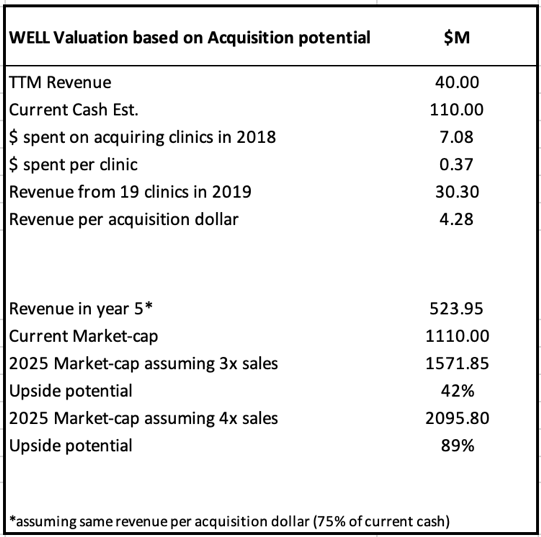 How big is the digital health market?
Finally, you have probably been wondering about the potential size of the telehealth and digital health space. This certainly plays into the valuation as the total addressable market plays into growth potential. Unfortunately, it is difficult to find a consensus, but a $25 billion industry in North America by 2025 seems to be a safe estimate based on our research. For example, BIS Research estimates a $21.55 billion global market in 2019 and forecasts it to grow to over $123.0 billion by the end of 2030. Considering these numbers, there is plenty of room for WELL to grow and reach a revenue target like the one stated above.
Final Thoughts
In a growing industry, we prefer leaders as they tend to have the ability to outpace the competition and are often the ones behind innovation in the space. We think WELL fits that bill. The company's track record of acquisitions is also quite impressive. However, investors should keep in mind that this is a growing field, valuations of companies like WELL are quite high and there is still plenty of room for competitors to emerge.
Disclosure: Authors, directors, partners and/or officers of 5i Research have a financial or other interest in TDOC.