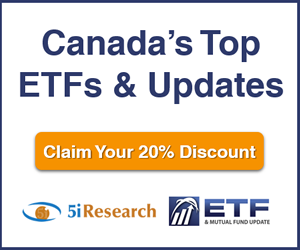 5i Recent Questions
Q: Would you prefer RCI.B or T for a long term hold? Why?
Read Answer
Asked by Greg on June 17, 2019
Q: Hello 5I team,
Thanks for the great service.

In my TFSA, I hold the following:
AW.UN (15.2%); BPY.UN (4.4%); BYD.UN (15%); DSG (5.3%), EMA (5/5%); ENB (10.3%); GC (4.2%); GUD (0.7%); JWEL (1.9%); KXS (7.5%); PEW.VN (1.6%); SAP (4.5%); SHOP (17.1%); SLF (4.1%); TSGI (2.6%).

I have about 12k to add to the above and I would like your thoughts on which 2 stock I should select from the above and/or any of 2 alternate selections you might suggest, I am interested in positions that would include some dividend growth, some capital appreciation, lower volatility and improved diversification. I note that my weighting in financial and healthcare are least represented currently.

Your suggestions and details for your selections are very much appreciated.

Read Answer
Asked by Joseph on May 14, 2019
Q: I have all these stocks in my non-registered account, I have some money to deploy. My two smallest holdings are CP and WCN, should I add to either one or would you suggest a new stock?
Read Answer
Asked by Dorothy on May 02, 2019