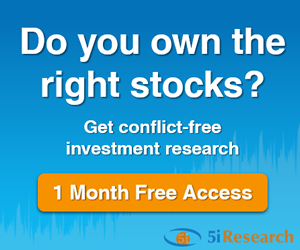 5i Recent Questions
Q: Hi Peter and Ryan,
We received the last portion of our funds in cash from Sun Life today. We are a little hesitant to open new equity positions or foray into bonds. The stock analysis highlights that we need to add REITS but that sector seems to be under pressure this week. The risk and payback seems unbalanced everywhere we look today.
As we are into our early 60's we have given thought to placing 40% of our portfolio that arrived as cash into a temporary safe place. If you were to choose today which ETF's are recommended out of CMR, XFR, HFR to place funds for deployment at a later date.
Cheers
Jerry and Debbie

Read Answer
Asked by Jerry on April 17, 2019
Q: looking ahead the next 6 to 12 months and with safety of principal in mind, how would you rank these fixed income etf's? thanks.
Read Answer
Asked by Curtis on April 16, 2019
Q: I currently have no fixed income. Looking to build this portion using an ETF and GIC's. My thinking is the the ETF could provide a base (liquidity and slightly better yield) with the GIC's providing stability. Considering either HFR or FLOT as the ETF. Which would you prefer or is there are more attractive one in your view? Thanks as always.
Read Answer
Asked by Lynda on March 21, 2019