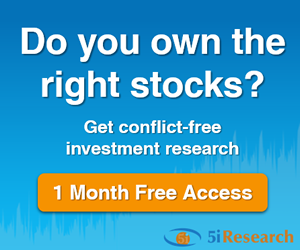 5i Recent Questions
Q: Hi there, thanks for the updates on your portfolios! I mostly follow your Balanced Equity Portfolio with a few swap in towards growth (ie: KL, SHOP, PHO, PEO, COV, GSY, DOL etc) - in other words I dont' mind risk, but not on the extreme end of the risk spectrum. I like the names like PBH, KXS, SIS, TOY as well. That being said, If I wanted to buy 3 of 5 names that were added to the BE and Growth Portfolios, which would be best suitable for me: RHT, WEF, TCK.B, VB, LIQ

Thanks so much!
Read Answer
Asked by Michael on February 16, 2018
Q: In your different portfolios which stocks are dept free and have lots of cash
Thanks
Read Answer
Asked by James on February 14, 2018
Q: I am in the process of building the Balanced and Growth portfolios, and I would like to take advantage of the recent pullback. I had been waiting for a correction to buy SHOP, but I notice that not only did it not decline much, but that it has recovered extremely quickly. I was under the impression it would be very volatile. Apparently not.
Anyway, could you please help me order in terms of priority to buy the top three or so securities that I don't currently have in the two portfolios:
Balanced: CAE, Celestica, Altus, Parkland, Sun Life, Stella, Sylogist
Growth: Dollarama, Covalon, Photon, Shop, IWO
In terms of best in the sense that they were unfairly punished and therefore have the most potential going forward?
Thanks for always great insight.
Read Answer
Asked by Gordon on February 13, 2018