Holiday Gift Giveaway Ends Soon
Being the holiday season we would like to remind members that we have a gift subscription feature that allows you to purchase 5i as a gift and choose the day the subscription activates along with a personalized message sent on the same day.
To make it a bit more fun and to give you a chance to get something in return, we are also running a giveaway promotion. If you purchase a gift subscription, you will be entered into a giveaway with $5,000 in cash prizes and a number of free subscriptions. But, we are limiting the number of available entries to only 500. You can learn more and enter here.
If a 5i Research subscription is not in the gift budget, you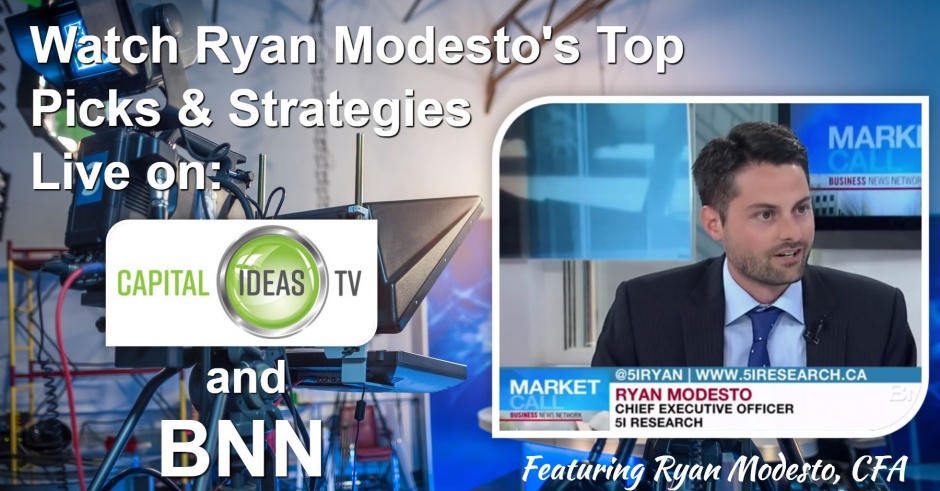 Ryan Modesto will be appearing live on the Capital Ideas TV live stream here on Thursday, November 29, 2018 at 2 PM ET.
He'll be discussing investing and research best practices, along with the key elements to consider when choosing your next stock.
On that same day, he'll also be live on BNN Market Call at at 6:00 PM EST. Set your PVR or tune in live to hear Ryan's latest top picks, how the past picks have performed, and him and his team's latest investing insights.
For readers who don't get a chance to call in, you can always utilize our Q&A section to ask questions you may have throughout the year.
For BNN, submit your questions when he's live by calling BNN's Market Call at 1-855-326-6266, emailing marketcall@bnn.ca, or submit your questions on Twitter by using @marketcall during the interview.