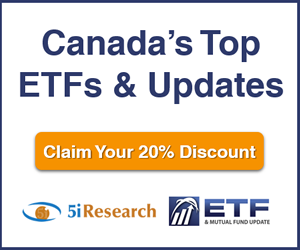 5i Recent Questions
Q: Iím going defensive in my portfolio. What is your opinion of these 3 possibilities?
Read Answer
Asked by Gary on June 10, 2019
Q: Hi Peter and Ryan,
We received the last portion of our funds in cash from Sun Life today. We are a little hesitant to open new equity positions or foray into bonds. The stock analysis highlights that we need to add REITS but that sector seems to be under pressure this week. The risk and payback seems unbalanced everywhere we look today.
As we are into our early 60's we have given thought to placing 40% of our portfolio that arrived as cash into a temporary safe place. If you were to choose today which ETF's are recommended out of CMR, XFR, HFR to place funds for deployment at a later date.
Cheers
Jerry and Debbie

Read Answer
Asked by Jerry on April 17, 2019
Q: I'm trimming some positions to hold cash while interest rates continue to rise. Do you think XFR is a suitable place to park cash? Than you.
Read Answer
Asked by Brian on October 09, 2018