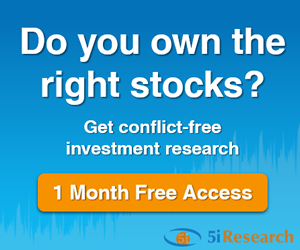 5i Recent Questions
Q: Hi Guys,
Pengrowth Energy -
1. Announced Strategic Review
2. Lenders extended credit to Sept 2019
3. Seymour Schulich still accumulating shares as of March 2019 (most at higher prices than current and now owns ~30% of the company)
4. Rising oil prices over the last couple months.

Can I get your thoughts on all of the above?

It seems many have come to the conclusion that bankruptcy is in the future, however, I have my doubts as I would think Mr. Schulich would be well aware of these chances and would not have continued accumulating shares.. Also, could the recent uptick in oil prices be the saving grace for this company?

Please deduct as many credits as necessary to answer.
Cheers,
Dean
Read Answer
Asked by dean on April 12, 2019
Q: Kitchen sink of holdings that are under 1% of my portfolio flagged by your new analytic tool. Double down or dump for each of these please. Balanced equity follower 5 year time horizon. For the dumps offer suggestion for replacement in tech utilities or coms which I am under allocated.


Read Answer
Asked by Tom on April 12, 2019
Q: I'm looking to reduce exposure to the energy sector and harvest some tax losses. My holdings cover a range of energy companies with different strengths and weaknesses (gassy, oily, big cap, small cap) so equivalence is difficult to calculate. From the list of CVE, HSE, PGF, SGY, TOU and WCP in what order would you reduce these holdings?

As always, thanks for the excellent service.

Read Answer
Asked by Stefan on December 03, 2018