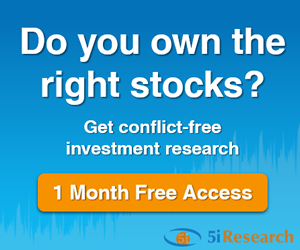 5i Recent Questions
Q: In my usa dollar rrsp account I would like to sell some of the holdings (all funds received will remain in the account) . I will re-purchase 2 of the same stocks in the future. What will the tax consequences be if the purchase is made prior to 30 days? Thank you for your time. jane
Read Answer
Asked by jane on February 19, 2019
Q: Hello! I have identified a Canadian small cap mining company that would be a good allocation fit for my TFSA. It trades on the TSX and NYSE. As it happens, I don't have enough capital in my CAD TFSA account to make a meaningful purchase. I do have enough in my USD TFSA account, however.

My options would be:
- transfer the cash from the USD to CAD account
- raise the capital by triggering a CAD account sale
- buy the US listed shares

Is there anything to be aware of when buying the US listed shares in this case?

And, more generally, where would one exercise caution? I'm thinking of a situation I've seen where US listed shares trade at significantly lower volumes.

Thanks for your consideration.
Read Answer
Asked by Marc on February 19, 2019
Q: Hello 5i, In response to Keith' question on Feb. 14 about setting up his RRIF. Two books he might find useful would be: Your Retirement Income Blueprint by Daryl Diamond, also Retirement Income for Life by Frederick Vettese.
Read Answer
Asked by Frank on February 14, 2019