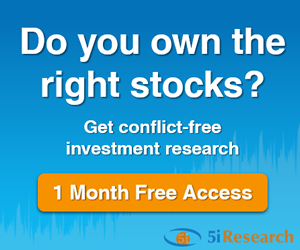 5i Recent Questions
Q: Hi, I currently have $11,500 to add to my TFSA with a long term horizon. I currently hold CNR (2.53%), NTR (2.88%), PLC (5.04%) PPL (2.98%), TD (4.21%), V (4.71), WCN (6.15%), XLV (3.31%) MAW 104 (25.11%). I am wondering if I should add to the current companies or might you have any other suggestions?
Read Answer
Asked by Penny on July 11, 2019
Q: HI,
Do you see any problem with holding significant amounts of Mawer global balanced fund and Mawer balanced fund to provide diversification for a portfolio of canadian stocks selected from the 5i portfolios and carefully selected US stocks ?
Additional fixed income required would com from
PH&N or other suitable sources

Thanks in advance
Read Answer
Asked by Leonard on June 11, 2019
Q: I currently have an RESP invested in the Mawer Balanced Fund (MAW104) which I've been pleased with performance (we'll be needing it in about 6-7 years). Considering switching this to either XBAL or VBAL to lower fees and hopefully improve returns accordingly.

I've read some of your answers to Mawer Balanced vs. the XBAL and VBAL ETF's. Would like your opinion on XBAL vs. VBAL for this account. The new XBAL mandate is pretty much the same as VBAL, but it's MER is slightly lower at 0.18% vs. 0.22%. XBAL is much smaller than VBAL currently, but I expect will catch up quickly, and they'll probably match MER's over time.

Do you recommend either of XBAL or VBAL over each other, and suggest even bothering switching from Mawer Balanced Fund in the first place? They all seem like good options!
Read Answer
Asked by Alan on February 12, 2019