I run a series of scans each day that searches for abnormal volatility. The goal is to seek out the potential of momentum coming into an underlying name or sector. This allows me to identify trade opportunities before they become obvious to the masses.
Below are three technical risk/reward setups that are currently appearing on my radar.
After consolidating over the last 12 months Savaria (TSX:SIS) has begun to push higher from a falling wedge reversal pattern as the monthly ppo (
percentage price oscillator)
momentum indicator attempts to curl higher off the zero line (price momentum is considered to be positive when the momentum indicator is above zero). This type of technical setup suggests an upward move to overhead resistance at approximately $15 (which would fill the downward gap created last November). A breakout above $15 would complete the reversal and suggest a continuation of the prevailing uptrend. A protective stop-loss order could be placed under the recent low at $10.48 that was created by a new release stating that the President and Chief Executive Officer had recently acquired 50,000 common shares on the open market of the TSX.
ATS Automation (TSX:ATA) is attempting to push higher from a falling wedge reversal pattern as the ppo momentum indicator is showing a positive divergence. Positive divergence occurs when the price of a stock makes a new low while the indicator holds above its previous low (to print a higher low) as demonstrated on the chart. This type of technical setup not only shows downside momentum is waning but also suggests a bullish reversal could be near. A technical buy signal will come on a move above $18 while a protective stop-loss order could be placed just below the recent low at $17.07.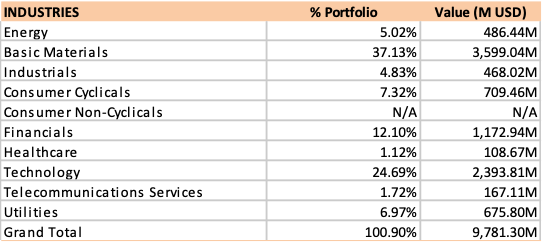 After breaking out above a multiyear downtrend line at the beginning of September, The Bank of Nova Scotia (TSX:BNS) is now pressing toward a new all-time high. There is a possibility that price could come back to retest the breakout (the top of the downtrend line drawn on the chart at approximately $70). A successful retest of the breakout would offer a risk/reward entry if a protective stop-loss order is placed just below $70. The next upward technical buy signal will come on a price move above $77.09 (which would mark a new all-time high). As I've mentioned in previous blogs, a breakout to a new all-time high allows investors to take advantage of the asymmetrical equation that often translates into an acceleration in upside price momentum as there's no resistance (overhead supply) from people selling at a loss (everyone in the stock is now a holding a winning position).

The author of the article does not own any positions in the above-mentioned securities at the time of publishing.
This weekend Dwight will be presenting at the Calgary Edition of the CSTA Annual Conference, talking about the power of scanning which will include a live demo. For those in the area you can find the full list of speakers and registration information by clicking
the following link
. 5i Research has no affiliation with CSTA but wanted to pass along word for those interested.
Have a question? Sign up for free to ask 5i's Research Team your top question, plus get instant access to Canada's top stocks, three model portfolios, and over 75,369 answered investment questions. Get your free 5i Research Trial here.