One great tool for idea generation when investing is looking at what others are doing in their portfolios. The stocks and the size at which they hold them can be an interesting signal into what an investor might be seeing at a company. Of course, this information is not always easy to find and this is where we come in.
Of course, just because a manager holds a stock does not mean it will work out or is appropriate for everyone. It does, however, offer a stamp of approval from someone that already owns the shares and at worst provides some ideas for an investor.
It is impossible to not begin with Berkshire Hathaway (BRK), led by Warren Buffett and Charlie Munger. BRK is associated with many blue-chip stocks. BRK holds 48 positions at the time of analysis. The portfolio went through a few significant changes given recent events. One thing to keep in mind, when looking at any portfolio, is that there are other investments and hedges we do not see. In the case of BRK, they own companies privately such as railroads and insurers. This diversification is not seen in the holdings of public companies and can allow the public equity portfolio to 'appear' more concentrated in single positions or sectors. In other words, the below portfolio does not provide a full picture of the total portfolio or exposures.
Holdings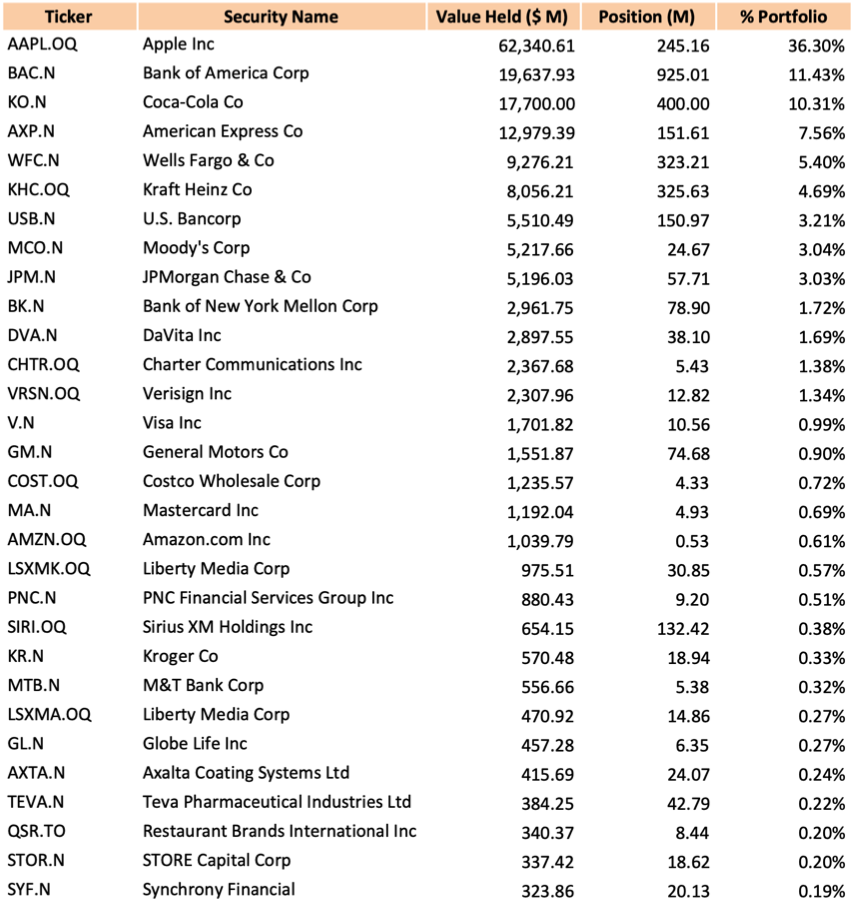 Source: Refinitiv Eikon. As of May 17, 2020
Sector Breakdown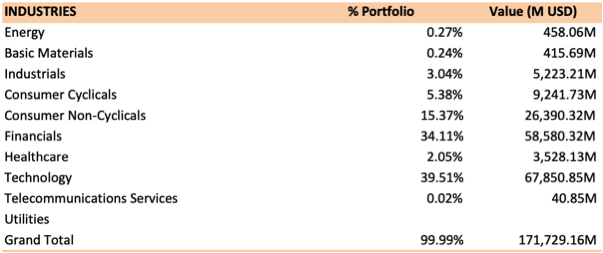 Source: Refinitiv Eikon. As of May 17, 2020.
As is evident from the top 10 holdings, the BRK equity portfolio is heavily weighted to technology and financial holdings. Of course, the majority of the tech weighting comes from the single position in Apple. Apple aside, the portfolio is heavy on financials and stapes which probably would not be a surprise to those who follow Berkshires value philosophy.

Source: Refinitiv Eikon. As of May 17, 2020
Recent Activity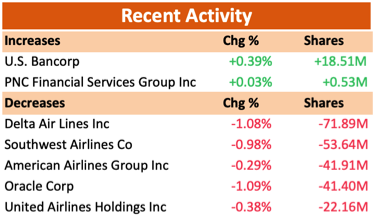 Source: Refinitiv Eikon. As of May 17, 2020
During Buffett's five-hour-long annual shareholders' meeting, Buffett announced the sale of BRK's stakes in four of the largest US airlines. The sizeable positions included an 11% stake in Delta Air Lines, 10% of Southwest Airlines, 10% of American Airlines, and 9% of United Airlines at year-end 2019. The conglomerate began investing in airlines in 2016 and had grown to become one of the largest individual holders in the four airlines. The sector has been hit hard by the coronavirus pandemic as the travel demand diminished and was restricted.
As hinted at earlier, just because a fund manager owns something does not mean it is a 'good investment' nor does it mean that they still hold it in the portfolio. It is, however, a great way to generate ideas for ones own portfolio with which an investor can work further on.
Happy Investing!
Thinking about becoming a 5i Research Member? There is no better time to join but don't just take our word for it. Try it for free for the next month and experience all the benefits of the 5i Research membership. (And don't worry. We won't ask for your credit card upfront)


Disclosure: Please note that the author does not hold a financial or other interest in stocks or funds mentioned at the time of publishing.