On April 13, 2017, Canadian Prime Minister Justin Trudeau introduced legislation that would begin the process of legalizing and regulating recreational marijuana by July 2018. If this bill were approved, Canada would become the second country in the world to legalize recreational cannabis, behind only Uruguay.
With this advancement, 5i Research will profile the Cannabis industry for this iteration of the 'Industry At-A-Glance' blog.
In addition, 5i Research recently attended the 2017 GMP Cannabis Conference, as an opportunity to further understand the future potential of the industry and meet the companies operating within. Conference presenters were varied stakeholders of the industry, including medical doctors, the Pharmacy Association of Canada and licensed producers ("LPs"). GMP has been a big supporter of the industry and has extensive coverage on LPs.
Part 1 of this 'Industry At-A-Glance' blog will provide broad context of the regulatory environment, market potential and cannabis benefits/challenges.
Part 2 of the blog will focus on LPs (Canopy, Aurora, Aphria, OrganiGram, etc.), company fundamentals, industry positioning and general investment opportunity.
Sign up for the blog below to ensure you don't miss our analysis.
What is Marijuana?
To most, the term likely brings to mind the thought of smoking and 'getting high'. This is an overly simplistic perception of the industry and the opportunity goes much further.
A cannabis plant has 483 known compounds and at least 65 cannabinoids. Cannabidiol (CBD) and tetrahydrocannabinol (THC) are the two main cannabinoids in the marijuana plant.
THC is the psychoactive ingredient in marijuana, or the one that gets users 'high'. CBD, however, is non-psychoactive. In other words, CBD cannot get you high. While this may be a let down for some, this unique feature of CBD is what makes it so appealing as a medicine.
Researchers believe that CBD may protect marijuana users from getting too high. CBD works to counteract the anxiety caused by ingesting THC. In addition to being non-psychoactive, CBD seems to have antipsychotic properties, and is being tested for people with schizophrenia. A number of studies also suggest that CBD can reduce anxiety when administered on its own.
Sizing Up the Market
The Government of Canada reports that Canadians continue to use cannabis at some of the highest rates in the world. In 2015, 21.0% of youth and 30.0% of young adults reported using cannabis within the last year.
A 2016 study from Deloitte estimated that a legal market for recreational marijuana – including growing and distribution, pot paraphernalia, increased tourism and business taxes – would amount to $12.7 billion to $22.6 billion annually. The study estimates that marijuana sales, even initially, would be at least as large as hard liquor sales in Canada, at around $5 billion annually, but could be as large as $8.7 billion, making them as large as wine sales.
The actual number will depend on how the government decides to regulate marijuana, and what price standards it sets, Deloitte says. This critical price component has yet to be determined.
Using data from Health Canada, we can easily see the tremendous growth the industry has already achieved. As of the last quarter, total registered users of 129,876 represent an increase of 227.4% over the previous year, or quarterly growth of 34.5%. LPs sold dried cannabis of 5,134 kilograms and 4,109 kilograms of cannabis oil. In the previous year's quarter, these figures were 2,481 kilograms and 3 kilograms, respectively.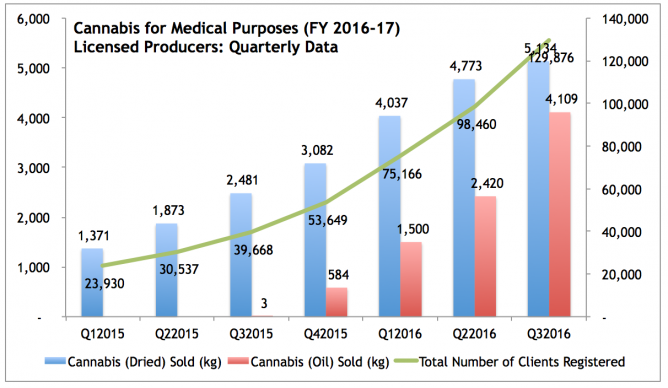 According to Statistics Canada, over 400,000 people use cannabis for medical reasons and not recreational use. Of those, only 130,000 are obtaining cannabis through the legal mail order system. This means 300,000 are obtaining their cannabis through illegal dispensaries.
Medical marijuana is currently available in Canada with a doctor's prescription, using mail-order services. Canada's pharmaceutical industry has been lobbying to be admitted to the marijuana game when cannabis is legalized. Shoppers Drug Mart, owned by Loblaw Co., announced it has applied to be a medical marijuana distributor, a move likely preceding an expansion into recreational marijuana. Retailers like the LCBO are also a logical distribution center.
If you desire more in-depth detail, the Government of Canada has an excellent Q&A website surrounding legality and regulation.
Exploring the Medical Benefits of Cannabis
A key theme from the GMP conference's medical doctor panel was cannabis' potential to impact the pain relief market. According to Dr. Kenneth Mitton, 20.0% of the Canadian population has chronic pain and much of this segment is not being treated. Family doctors do not prescribe for chronic pain, and chronic pain professionals are in limited supply. Here, cannabis fills a void.
The panel did not pitch cannabis as a miracle cure to all chronic pain symptoms. Medical cannabis does not give 100.0% relief to 100.0% of patients. The panel has found it to be 30.0%-80.0% effective; even 30.0% is a good result in chronic pain cases.
Instead, the potential was described as an adjunct to traditional therapies. Cannabis can help to limit dosages of traditional medications and in turn, alleviate harmful side effects. Medical cannabis is of course not without its own risks but that will not be the focus of our blog (readers have a wealth of information available online for this topic).
Of course, the applications of cannabis extend beyond the realm of chronic pain. The doctor panel noted its effectiveness in a range of other conditions and diseases. PTSD was a large area of note. Psychiatrists are the biggest referral networks here, as some have been seeing significant improvement in their patients whom no longer require the PTSD medication. However, psychiatrists remain one of the most polarized fields on the benefits of medical cannabis.
Other panel areas of success have included anxiety, inflammatory bowel disease and fibromyalgia.
The Canadian Opioid Crisis
While symptom relief may seem like the big win here, the true potential and value is the opportunity to take patients off their opioid medications. The panel sees a need to find ways to treat patients without the use of opioids, which is a large problem in North America.
Canadians consume more opioids per capita than anywhere in the world, according to Hospital News (Sept 2014). Over 21 million opiate prescriptions were filled in 2014, an increase of 3 million in just one year.
Opioids (oxycontin, fentanyl, hydrocodone, morphine, etc.) are potentially life threatening, can require methadone intervention, and have severe overdose symptoms that can result in death. The benefits are unproven. Medical cannabis on the other hand has mild, non-life threatening withdrawal symptoms and has no documented deaths from overdose.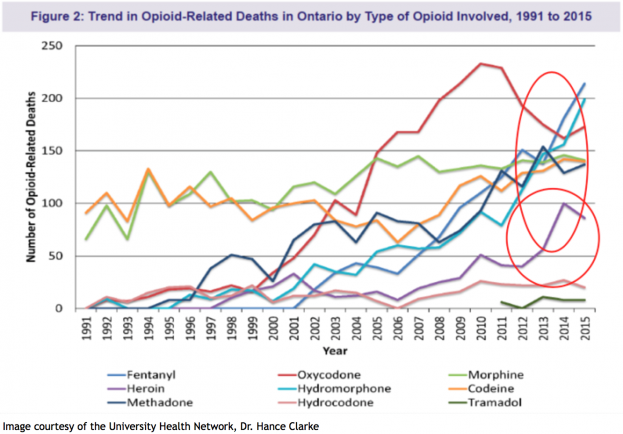 Valium is highly addictive and comes with numerous side effects. Cannabis treatments help avoid a Valium prescription and can replace a dangerous drug, from which you can overdose, with a safer alternative.
Benzodiazepine is another medication that is nearly impossible to get off of and the panel noted that for the first time ever, their patients have been able to cut back dosages when using medical cannabis to supplement traditional medications. Adopting medical cannabis, Dr. Marcia Gillman said it was the first time in 30 years she has seen a patient stop using sleeping pills.
Clinical Gaps
According to Dr. Hance Clarke, "This is coming, no question about it. Doctors are starting to want it, patients want it, governments want to tax it, it will happen."
A 2014 Medical Post Article of Canadian Physicians showed 12.0% of physicians prescribed medical cannabis, 52.0% are interested but have not or want more info, and 36.0% would not prescribe under any circumstances. To demonstrate the progress being made in the space, Dr. Hance Clarke noted the percentage of doctors who would not prescribe has recently dropped to 15.0% - 20.0% from 36.0%.
Despite progress and the success the panel has seen using medical cannabis to treat patients, it will be an uphill battle before the drug is more widely adopted by the medical community. The biggest challenge remains the knowledge gap and administration.
Dr. Linda Robinson discussed the need for more clinical studies. Only small studies have been conducted up to this point. The medical field needs larger perspectives and a Phase III Randomized, Double Blind, Placebo-Controlled Study. Without the data from scientists, it is hard to get doctors on board because "they only prescribe what they know."
The medical community is also concerned over safety and appropriate dosing. Dosing remains a big challenge for physicians; vaporizers and smoking are crude delivery systems. Patient medication needs to be consistent and you cannot prescribe a drug that results in a different experience each time you use it. LPs that can offer a standardized product will have a huge advantage in the market going forward.
All panel doctors mentioned the need for improvement in paper work when prescribing medicinal cannabis. Simply put, the amount of forms is "crazy" and the process should be no more than one page worth of documentation, similar to other medications.
Unlike opiates, the government and insurance companies do not cover medicinal marijuana expenses. This needs to change because for many, medical cannabis is simply too expensive. For patients in poverty, it is difficult for doctors to prescribe a product that can cost $100 per bottle when opiates are much cheaper due to coverage.
If the patient wants to avoid opiates, this means they source their cannabis from illegal sellers, where dosing and standard of safety risk exist. Extending insurance coverage towards medical cannabis would mean replacing street cannabis for these patients, the latter of which is a lower quality and standard of safety.
Marijuana legalization was a high-profile campaign promise for the Trudeau government and efforts are underway to make this a reality. Many countries globally are looking to Canada as a leader in this area. .
Sign up for the blog below or click here to get Part 2 of our 'Industry At-A-Glance' blog, where we profile industry companies such as Canopy, Aurora, Organigram and Aphria.