Photon Control (

TSXV:PHO

)

No matter how much experience you have as an investor, a trend following system is a straight forward approach to systematic trading that can be easily deployed and managed by anyone. This is a great way to profit from large moves without having to manage positions on an intraday basis. If you have spent time learning lessons the hard way, like myself, then you will relate to what I am about to say.
The two problems I struggled with the most were taking a position too large for my account and selling too soon. In my experience these problems often go hand in hand, I was always putting myself in the perfect position for emotional ruin. Every time I would get onto a winning trade I became greedy or scared and locked in profits prematurely, cutting my potential returns short.
This is exactly what happened last week to one of my subscribers with Photon Control (TSXV:PHO). On September 29th 2017, Photon Control gave a momentum buy signal as it broke out from a 6-month consolidation pattern. Then last week the price action came back to successfully retest the breakout, while shaking out all the weak hands including my subscriber. His excuse was he could not afford the risk in his account, when in reality, he did not have a plan going into the trade and his position size was too large. He could not emotionally handle the draw-down. Photon Control continues to be one of my top ideas. Last Friday, October 6th, the price action confirmed this breakout by surging another 9%.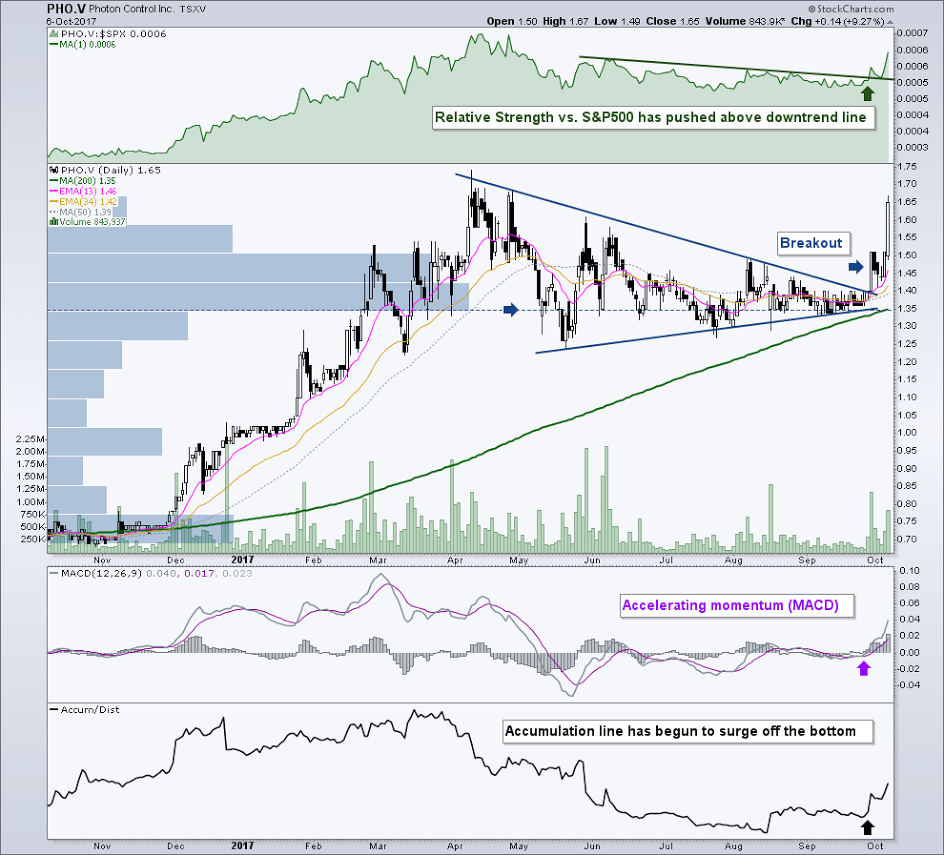 Inversely, if the trade started to work against me, I would become scared and sell with a loss, only to have the stock reverse course and surge higher without me (this is exactly what happened to my subscriber in the example above). With emotions running rampant, it is virtually impossible to make good decisions.
This is precisely the point when most investors fail and why it is extremely important for anyone hoping to profit from the market to develop a plan. A plan that allows risk to be managed in a systematic way that fits the investor and individual's bankroll, emotions, and personal needs. A plan that allows one to ride their winners and cut their losers. A mentor once told me, "We are not traders, we are not investors, we are risk managers and when we learn how to not lose money, the rest will take care of itself."
Another problem that would seriously cut into my returns is selling a winning stock too early regardless of my position size. Although this seems relatively insignificant, it often turned out to be a large problem because I robbed myself of significant gains. If your objective is to make as much money as possible, then you must put yourself into a position to hold onto really big winners when they come your way. If your strategy stresses taking the money and running with each small profit, you are shortchanging yourself.

View our full report on Photon Control in the member area here. If you're not currently a member, you can view the full report for free, by signing up for a 1 month free trial.

Ballard Power Systems (TSX:BLDP)

Another reason investors sell too soon is the use of price objectives. I often get asked on Twitter, what is your price target? My reply is, I don't use price targets. One of the main problems with using a price target for stocks is what appears to be overvalued often keeps going higher, and what appears to be undervalued often keeps drifting lower. If anyone was willing to take the time to study stock trends, I truly believe they would come to the same conclusion: the trend of a stock is a more accurate indicator of when to sell. The movement of prices is a direct effect of supply and demand and is the only thing that matters when it comes to managing one's risk and letting winners ride.

Ballard Power Systems (TSX:BLDP) is a prime example. The momentum signal was given at the end of August and was my top idea in Capital Ideas Digest that week. Since, the price action went on to surge 60% in a very short period of time. The trade was very simple. The momentum buy signal was given, a stop-loss order was set and the rest is history. However, if an investor had a price target or felt that Ballard Power became overvalued chances are they did not benefit from this rampant surge.

View all our answered questions and analysis on Ballard Power Systems in the member area here. If you're not currently a member, you can view all the answers and analysis by signing up for a 1 month free trial.

The Stars Group (TSX:TSGI)

​Many investors are trying to find the magic indicator that will make them successful, and trust me, I was once that person. I found out quickly that learning technical analysis does not teach you how to trade and there is no magic indicator. Another question often thrown at me when a breakout occurs is, "isn't that stock overbought? look at the RSI!" What investors often do not realize is stocks can remain overbought for long periods of time, while continuing to post rapid gains without giving a pullback. This is also something I used to struggle with.

The Stars Group (TSX:TSGI) demonstrates how an investor would have cut themselves short, if they sold or did not take the momentum buy signal, because the RSI became overbought. The RSI remained overbought from March 22nd to May 17th, providing a 32% return over that period. The Stars Group continues to be one of my top ideas, and guess what? The RSI has become overbought again and remains so as the price action continues to print higher highs.

In conclusion, to become a successful investor a number of factors must be included into a process that works. Be aware, learn from your mistakes, remove emotion, and learn how to define your risk. No matter the investment style that best suits your personality; you have to stick to a plan that allows the best chance to be profitable. A plan can be as simple as a trend following strategy that looks for stocks breaking out from a tight trading range, while providing a low risk entry and a place to set a stop-loss order.

View all our recent report and answered questions and analysis on Stars Group in the member area here. If you're not currently a member, you can view all the answers and analysis by signing up for a 1 month free trial.

By Dwight Galusha from SetYourStop.com

Disclaimer: The author holds a position in Photon Control and will not initiate a position in any other name for 72 hours from publishing. Nothing in this article should be deemed as a recommendation to buy or sell securities and is for informational purposes only. Please do your own due diligence before making an investment decision.