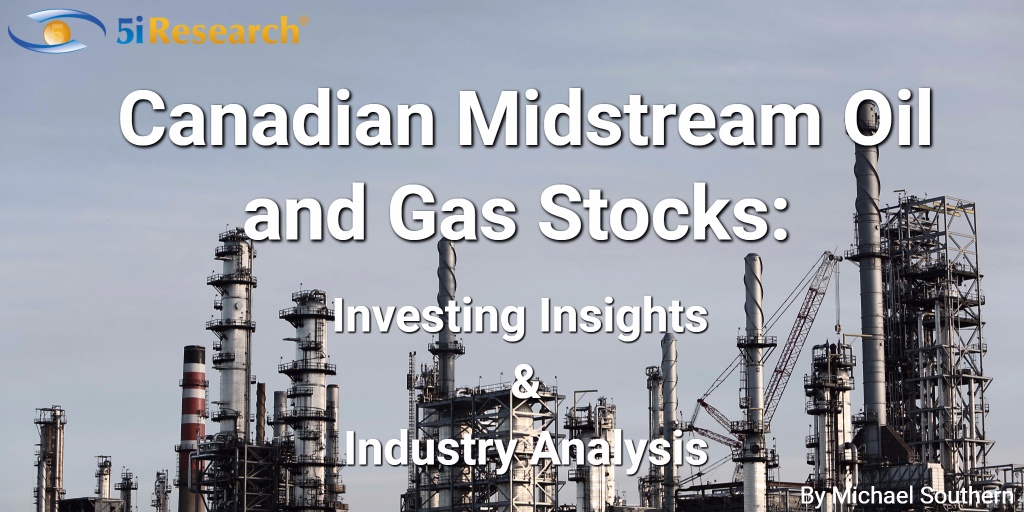 Please note that this report corrects a previous version that incorrectly deducted interest paid from CFO in calculating payout ratios.
As many readers know, the Bank of Canada raised its 0.5% benchmark interest rate by a quarter percentage point on July 12. Markets are pricing in another quarter point hike by the end of the year.
Higher interest rates are often viewed as a positive for sectors like financials and materials but seen as a negative for utility stocks. With that, we will center this iteration of the 5i "Industry-At-A-Glance" blog to discuss the midstream oil and gas industry, which we consider more like a utility stock as opposed to an energy sector stock.
The article will highlight which companies are likely to outperform peers due to their ability to defend share price via dividend growth. Our focus list of companies is shown in Image 1.
As a reminder, the "Industry-At-A-Glace" blogs are not meant to serve as full company analyses or investment recommendations. Rather, the blog is a discussion on industry constituent companies and drivers of return. Investors are encouraged to perform their own due diligence.
A quick note on why we consider midstream oil and gas as utilities: First, these pipeline infrastructure companies are the least sensitive to the price of energy vs. upstream peers. Midstream companies operate by transporting and storing oil/natural gas vs. the actual production. If the price of oil gets bad enough, it can impact midstream equities but multi-year, fee-for-service contracts and long-term pipeline assets mean a stable and reliable demand throughout economic turmoil because of the necessity of the services they provide to upstream drillers.
Investment Summary and Top Picks
ENB.TO (TSE:ENB): best in class 10.0% - 12.0% dividend per share growth target through 2024
TRP.TO (TSE:TRP): solid dividend per share forecast and consistent payout ratio
PPL.TO (TSE:PPL): low payout rate coupled with lowest leverage profile as the D/E ratio
IPL.TO (TSE:IPL): attractive P/E valuation and yield, decent 'value' pick
The Context of Higher Interest Rates
Higher rates tend to hurt the midstream O&G for a few reasons. Theses equities are often viewed as bond proxies due to the stable nature and higher level of dividend yield vs. the broad market.
As such, this group on average has a notable inverse correlation to the long-term yields. As well, with higher interest rates investors see an improved risk-adjusted return profile in favour of conservative bonds vs. the higher-risk equity markets.
Finally, these companies tend to carry larger debt loads due to the required infrastructure investment, and higher interest rates mean a larger debt servicing cost.
Dividends: The Best Offense is a Good Defense
How can midstream equities defend their share price? With attractive yields and more importantly, dividend growth. It is no secret that investors look to this industry for cash flow. This should continue to support equity prices for industry companies that are expected to consistently increase their dividend.
Enbridge (TSE:ENB)
Enbridge (TSE:ENB) is a standout here and for that reason, a 'Top Pick'. ENB is Canada's largest pipeline company. In 2016, the Company completed a $42 billion transformational acquisition of Spectra Energy in the United States (US). Based on the combined company's projects and backlog, ENB estimates they can increase the dividend 10.0% - 12.0% through 2024. If achieved, this would be an excellent return and should continue to attract income investors to the name.
Consider the following example that demonstrates the role dividend growth can play in boosting stock returns: assuming ENB.TO can meet its 12.0% annual dividend growth target, this would result in a FY2021 dividend per share of $3.74, after five years. To maintain today's yield of 4.7%, the share price would need to appreciate to $79.5 from the current $52.5 per share. This would result in a price return of 51.4%, or 8.7% per annum.
TransCanada Corp. (TSE:TRP)
Right behind ENB is TransCanada Corp. (TSE:TRP). As shown in Image 2, markets are estimating an average 10.2% annual dividend growth over the next four years. In respect to the dividend, TRP and ENB are quite similar. Both made very large US acquisitions (TRP bought Columbia Pipeline Group Inc. for $10.2 billion), and this is where company focus and growth will come from for the next while. With a successful integration, TRP has basically laid out 8.0% - 10.0% earnings growth over each of the next five years with commensurate dividend growth.
While ENB is still our 'Top Pick' for dividend growth, we think an investor could easily own both these names at a split allocation to benefit from the dividend outlook while smoothing out any company specific issue (for example, in the case of TRP, future volatility with the Keystone XL pipeline).
Payout Ratios: Bouncing the Cheque
Lofty dividend growth profiles are great but mean little if a company has overextended itself and is at risk of cutting the payout. A prudent investor should consult a company's payout ratio to evaluate this risk but also look for low payout ratios, which could be a sign of superior cash flow flexibility and future dividend increases.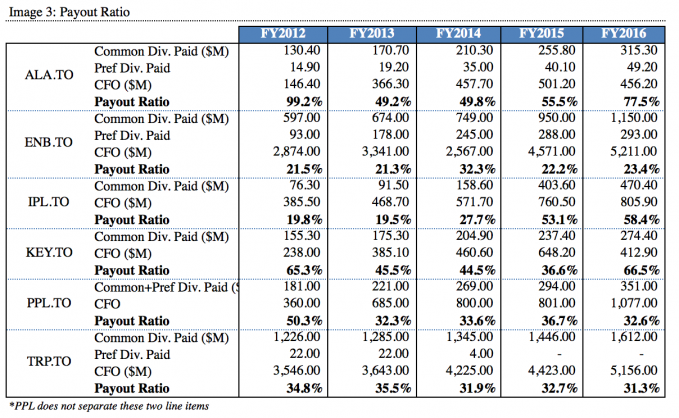 Payout ratios should be calculated using cash flows vs. earnings. First, dividends are paid from cash flow, not earnings. Second, earnings can be misleading due to aggressive accounting policies and management estimates. Cash flows are less subject to manipulation and also tend to be less volatile.
In calculating the above ratios, we divide the equity dividends paid by the cash flow from operations (CFO). However, from CFO we have subtracted preferred share dividends paid, as preferred shareholders have a superior claim over equity shareholders, and must be paid first.
Pembina Pipeline Corp. (TSE:PPL)
Pembina Pipeline Corp. (TSE:PPL), ENB and TRP are all standouts here but PPL deserves special mention. The Company has both a low payout and has been remarkably consistent. Of the six names, it looks to have one of the most conservative payouts (as would TRP). The Company has a number of other positives going for it, namely the recent acquisition of Veresen (VSN). PPL has promised the combined company will offer a 5.9% dividend increase upon completion. The deal is accretive and should boost cash flow per share. Combine this with a low payout ratio and the name looks good for income.
The three remaining names have shown less consistency and are volatile. While higher absolute yields on companies like AltaGas Ltd. (TSE:ALA) and Inter Pipeline Ltd. (TSE:IPL) may be attractive, shareholders could see more relative volatility in these names if markets narrow in on higher and/or inconsistent payout ratios. We would monitor the increasingly higher payout ratio on ALA and IPL.
Valuations: Looking for a Deal
In general, the industry tends to trade at higher multiples. Investors are willing to pay a higher valuation to access attractive dividends and invest in companies that demonstrate good stability over a market cycle. ENB and TRP often trade at higher multiples so it is not often investors will find these stocks cheap.
As we show below in Image 4, the forward price-to-earnings (P/E) average multiple on the peer group is 19.7x. This is a premium to the overall S&P/TSX, making the industry more expensive than the broad market.
Inter Pipeline Ltd. (TSE:IPL)
When evaluating our peer group for a deal, likely the best combination of a cheaper valuation but good investment opportunity is IPL. The stock is trading at a P/E of 16.5x and a price-to-cash flow (P/CF) of 9.6x, which is a discount of 16.3% and 10.5%, respectively, to peers. At the same time, investors get a 6.7% yield, only behind ALA at 7.7%.
The higher yield is indicative that the stock has struggled recently. Year-to-date, IPL is down -11.9%. The reason for its recent poor performance is that most of its business comes from transmission to and from the oil sands, which has been an out-of-favour investment with lower oil prices. However, we see potential long-term leverage here in an oil sands pickup, as the Company has roughly 50.0% capacity in the pipelines.
AltaGas Ltd (TSE:ALA)
Investors might conclude that ALA represents a good value opportunity when noting the price-to-book value of assets (P/B) of 1.1x and P/CF of 8.9x. The 7.7% yield is certainly enticing but, as is often the case with higher yields, there are underlying issues worth concern. ALA is a quasi-utility and quasi-gas company. The Company did a very large transaction to buy WGL Holdings in the US for about $6 billion. Markets disliked the acquisition and the stock traded down quite sharply. There is also some concern over the higher payout ratio. If the stock can find some footing the 7.7% yield may be worth taking a shot at; however, ALA would be our lowest conviction name in the peer group despite other positive fundamentals.
Keyera (TSE:KEY)
Keyera (TSE:KEY) is a 'middle of the road' pick for us. It is an expensive stock looking at book value and cash flows, but traditionally has traded as such. Management here has a good track record and likely justifies the premium, as does a good record of dividend increases (5-year growth of 9.8%). While it is one of the larger midstream businesses, KEY focuses in natural gas processing and gathering, and liquid storage. Overall a decent buy and hold that we think is fully valued at these levels.
ENB vs. TRP
Finally, we will point out ENB vs. TRP. As previously mentioned, from a dividend perspective, these are two similar names: 'best-in-class' dividend growth that will be funded by a larger US presence via acquisition. With ENB trading at a P/B of 1.6x vs. 2.5x for TRP, and offering 50bps more yield, we would have to side with ENB if forced to chose one name for a bit of value.
Debt: A Quick Look at the Balance Sheet
Midstream oil and gas companies carry a higher level of leverage on the balance sheet due to the size of infrastructure investment required to run the business. As we see below in Image 5, all peers report a higher debt-to-equity (D/E) ratio. There is a bit more breathing room for smaller names like ALA, KEY and PPL.
Fortunately industry businesses benefit from long-term service contracts and demand that is more stable across a market cycle. This results in a steady cash flow that services debt. We are not worried about the higher D/E on companies like ENB.
It is worth pointing out the composition of debt in a rising interest rate environment. If there is a larger portion of debt in variable/floating rate issues, such an environment means higher debt servicing costs. Both IPL and KEY are solid in this regard with a purely fixed coupon debt structure. Other names employ roughly ¼ variable/floating coupon issues, which is typical for the sector. Assuming rates rise in a 'slow and steady' manner, there is not much on the balance sheet that is cause for concern.
Looking for more industry-at-a-glance analysis?
See our previous insights & analysis on Canadian marijuana stocks.