Canadian investors are sitting in a similar spot for at least ten years: Market returns on Canadian exchanges are ok but have consistently lagged those of the US. Of course, nothing says that the TSX should or will outperform US markets or any particular market for that matter but it is fair to expect that from time to time, different markets have their bout of outperformance. However, no matter what sector is on the move, the TSX still seems unable to post a performance better than the S&P500.
Let's take this year as an example, between the rally in gold prices and the tech sector, one might have thought that this would be the year that the TSX 300 Composite outperforms the S&P500. In fact, if we compare the US and Canada by the sector, we see Canada actually outperformed on most fronts, 8 out of 10 sectors to be exact: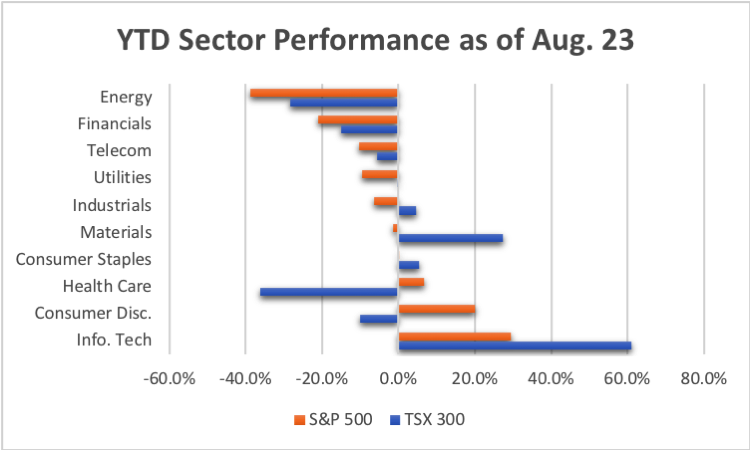 While Canada is outperforming on a sector by sector basis, the TSX remains down roughly 2.7% over the YTD period while the SPX is up 5.9%. How can this be? How can the TSX be performing better on a sector by sector basis but underperforming the SPX? Simply put, the SPX outperformed where it mattered most and that was in the tech and discretionary sectors. Ironically, the performance for tech on the TSX doubled that of the SPX but the far lower weighting mitigated any contribution. To help highlight which sectors contributed to returns, you can look at the below table: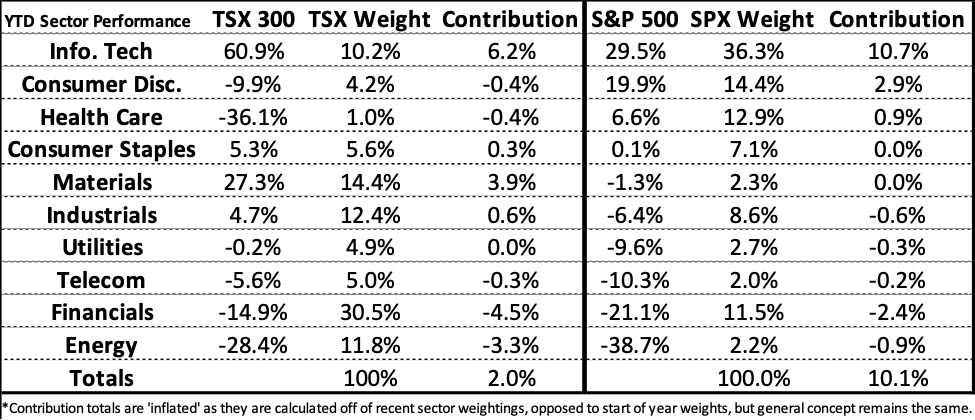 What stars need to align for the TSX to outperform the SPX? With very strong runs in both tech and materials, we might want to temper expectations of those sectors carrying returns for the remainder of the year. In our view, this points to the need for both the energy and financial sectors needing a big run in order to outperform the SPX. It might happen, but the economic outlook probably needs to see a sustained improvement. Alternatively, the US tech sector underperformance could also be the answer to a better performing TSX.
As noted earlier, it matters less which market is the best performing but underperformance in Canada when almost everything 'goes right' relative to the States is understandably frustrating. In our minds, this is another good example as to why looking under the hood of an index and even taking passive tilts to sectors one has more of a favorable view of can make sense. This type of outcome we have highlighted is also a good example of why an investor should be aware of home bias in their portfolios.
Stay Healthy and Happy Investing,
NOT A 5I MEMBER YET? Want to see the full post? There is no better time to join but don't just take our word for it. Try it for free for the next month and experience all the benefits of the 5i Research membership. (And don't worry. We won't ask for your credit card upfront)