Need A Last Minute Gift Idea?
The holidays are almost upon us but if you still need a gift idea for that person who is hard to shop for, look no further! You can purchase a gift subscription to 5i Research for your friends and family and with each gift subscription purchased, we will donate $35 to Food Banks Canada. You can learn more here.
Happy Holidays!
We wanted to wish all members a safe, healthy, and happy holiday season and New Year. It has been a year for the history books and we hope everyone is coming through the other side safely. As always, don't forget to take some time to catch your breath, step back from the markets, and surround yourself with friends and family, even if it is only through a computer screen this year.

A reminder that questions will be answered on a limited basis only next week, with normal service resuming after New Year's.
New Report
We have a new report on Xebec Adsorption Inc. (XBC) a renewable energy and gases company that has seen strong revenue growth and recently undertook a major acquisition.
Report Updates
We have posted an update on MTY Food Group (MTY), which has held up quite well throughout the pandemic and seen a decent recovery from earlier this year. While the company still faces some headwinds, MTY is set up for market share gains and a potential outlet for consumer spending if we see an increase coming out of the pandemic.

Be sure to see our update of H&R REIT (HR.UN), a company that was on the wrong side of the pandemic but continues to be a highly diversified REIT with sticky revenues and decent growth expected over the next couple of years.

We have also posted an update for Park Lawn Corporation (PLC) which has, in our view, regained its recession-proof status as the pandemic played out.

Finally, the Goldman Sachs Merchant Banking Division is acquiring People Corporation (PEO), a company we have held in our Model Growth Portfolio for some time and covered since September 2019. We are sad to see the company go, but have no complaints about the outcome for investors as the company was bought out at a 36% premium.

Read the latest updates by logging in here!
Market Update
Certainly, 2020 has been a year like no other, and that includes the markets. The volatility seen this year may have scared away some investors while attracting many. As we have seen, markets have a way of looking ahead and anticipating the future economic outlook. As we approach the end of the year, let's take a look at how both the TSX and S&P have performed on a year-to-date and five-year annualized basis: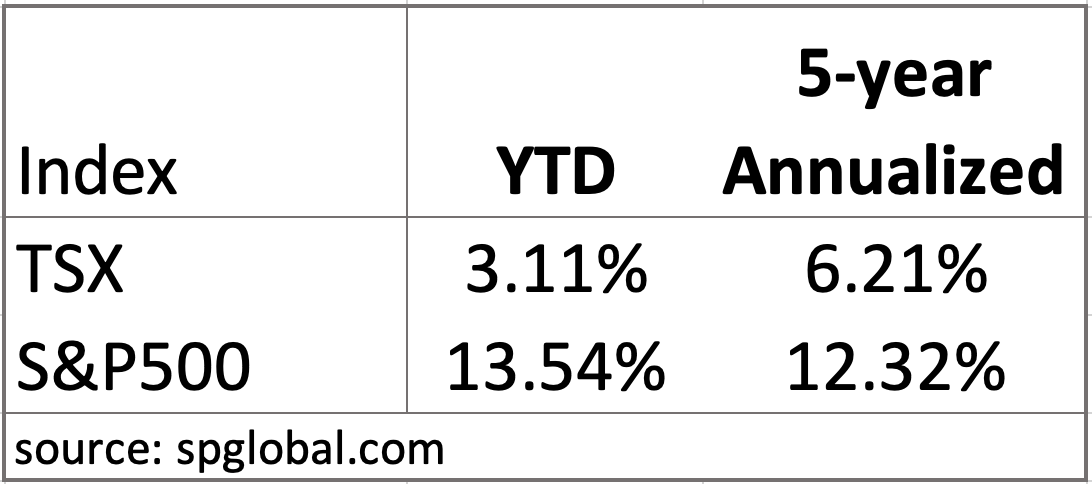 Back in March, it would have been difficult to imagine this year ending in positive returns, let alone up ~14% for the S&P 500. A positive year for the TSX is also quite impressive considering the impacts on oil markets this year. What is interesting to see is that the annualized returns are not so far off from the year-to-date returns, particularly for the S&P500.

We also like to look at what drives these broad market indexes under the hood. Here's how each sector has performed in Canada and the US this year:
While underperforming sectors can certainly be a place to look for opportunities for recovery and outperformance next year, we would not consider that to be an absolute rule as stocks in certain sectors may continue to struggle if the outlook does not improve as expected. We also would not rule out a continued rally in 2021 for sectors like technology, consumer discretionary, and health care that have outperformed this year.

Looking out ahead, equities seem to be the asset class of choice for 2021. A combination of low-interest rates and an expected recovery in corporate earnings are likely to continue underpinning stocks next year.

Low-interest rates also make bonds less attractive to hold for income and can lose value when interest rates eventually rise.

However, we are not out of the woods yet and vaccine rollouts are just beginning, so things may not go back to "normal" all that quickly. As always, we think the best way to allocate capital is by investing in a mix of quality companies that show growth and staying focused on the fundamentals.
Thinking about becoming a 5i Research Member?
There is no better time to join but don't just take our word for it. Try it for free for the next month and experience all the benefits of the 5i Research membership. (And don't worry. We won't ask for your credit card upfront)